While the decision isn't as stunning as the one in The Netherlands this week, teenagers in the US just won their first court victory on climate change.
In a landmark case, a Netherlands court ordered the country to raise its climate target because it is inadequate. The precedent-setting case is expected to ripple across the world.
In the US, teenagers have filed court cases in every state through the nonprofit Our Children's Trust, trying to force action on climate change that's in line with science, not politics.
The first win came this week, when a Washington State court ordered the state's Department of Ecology to reconsider the petition they rejected last year and report back to the court on their decision by July 8.
Teenagers who filed: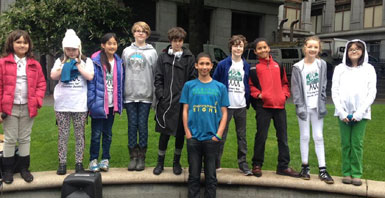 The petition asks the agency to put forth climate policy in line with what science says is necessary to protect our climate system and oceans. Youth argue they have a fundamental right to a healthy environment, and instead are faced with rapidly rising harms from climate destabilization and ocean acidification.
"Kids understand the threats climate change will have on our future," says 13-year-old petitioner Zoe Foster. "I'm not going to sit by and watch my government do nothing. We don't have time to waste. I'm pushing my government to take real action on climate, and I won't stop until change is made."
The court's ruling says: "Washington State's existing statutory limits should be adjusted to better reflect current science. The limits need to be more aggressive in order for Washington to do its part to address climate risks."
"For the first time in the US, a court has ordered a state agency to consider the most current and best available climate science when deciding to regulate carbon dioxide emissions," says Andrea Rodgers of Western Environmental Law Center, attorney for the youth petitioners. "The court directed Ecology to apply the agency's own findings that climate change presents an imminent threat to Washington and demands immediate action. The ball is now in Ecology's court to do the right thing and protect our children and future generations."
"This is a decision of immense national significance," said Julia Olson, executive director of Our Children's Trust, the nonprofit spearheading similar cases around the country. "Judge Hill acknowledges the urgent and dire acceleration of global warming, refuses to accept any more bureaucratic delay, and mandates that the State consider and act in just two weeks time on the youth's scientific evidence that atmospheric levels of carbon dioxide must be reduced to 350 ppm. This judge understands the role of the judiciary to enforce citizen's rights to fair evaluation of their grounded petitions and the critical urgency that government act substantively and without delay to protect the state's resources and the children who depend on them."
Another sign that the courts are beginning to take climate change on is a ruling against coal expansion on federal lands.
Learn more about Our Children's Trust:
(Visited 4,004 times, 6 visits today)