Will federal incentives for the solar industry be allowed to expire after 2016?
The only thing good about being in the dark about the answer is that it is spurring some 32 gigawatts (GW) of new solar projects now, just in case.
That's close to double the 20 GW installed in the US.

And those 32 GW are all larger than 5 megawatts (MW) – they leave out the legions of small, rooftop systems, according to market research firm, IHS Technology.
Most projects are in the 20-100MW range. "Newly proposed projects appear to be primarily located in less contentious areas and developed at sizes that are likely to promote a high potential for success in a short time," says Christine Beadle, senior analyst for IHS.
As you can see, the majority are still in California, and the new leader, North Carolina: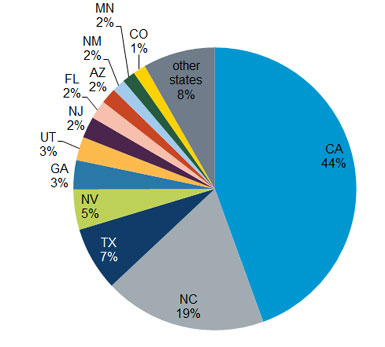 Credit: IHS Technology
Financing is already more difficult for utility-scale projects with long lead times because of the pending expiration of the ITC.
Projects must be completed before the Federal energy investment tax credit (ITC) expires at the end of 2016, when the tax credit drops from 30% to 10%.  Legislation to renew the ITC was introduced in May – we'll see if it gets anywhere.
The wind industry's production tax credit still hasn't been renewed since expiring at the end of 2014. Because of that, we will see a big drop after current projects are finished.
(Visited 3,838 times, 4 visits today)