Even oil companies are calling for a carbon tax as a way to get them to stop stoking climate change.
In an amazing move, six of the world's largest oil companies (all based in Europe) are asking the United Nations for help: BP, Shell, Total, Statoil, Eni and BG Group. Exxon and Chevron opted out.
The CEO of TransCanada – the company behind the Keystone pipeline – also chimed in. "Until we set a price signal for folks, they're not going to change their behavior," Russ Girling said at a conference. Suncor Energy, a tar sands producer, concurs.
They would like the UN to create a space for dialogue between them and willing governments. "We have important areas of interest in and contributions to make to creating and implementing a workable approach to carbon pricing," they say.
Governments would introduce national and regional carbon tax policies, and create an international framework that eventually links them together.
"We acknowledge that the current trend of greenhouse gas emissions is in excess of what the Intergovernmental Panel on Climate Change (IPCC) says is needed to limit the temperature rise to no more than 2 degrees above pre-industrial levels," they say.
"We need governments across the world to provide us with clear, stable, long-term, ambitious policy frameworks. This would reduce uncertainty and help stimulate investments in the right low carbon technologies and the right resources at the right pace."
AMEN.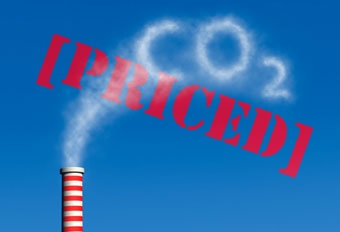 In a similar letter to the Financial Times, they say, "We owe it to future generations to seek realistic, workable solutions to the challenge of providing more energy while tackling climate change."
"As a group of business people, we are united in our concern about the challenge – and the threat – posed by climate change. We urge governments to take decisive action at December's UN summit."
In other words, they want an agreement to price carbon as one of the outcomes of the Paris Climate Summit.
They also say, "We are united in believing such action should recognise the vital role of natural gas."
Now We Get It!
There you have it – they want to get rid of coal, and even have oil taxed, because they will make up for it from an even bigger boom in natural gas. Renewable energy has "an increasing role to play," they say, but not at the level of natural gas.
Shell CEO Ben Van Beurden says his company is now a "gas and oil company", rather than an "oil and gas" company. Since 2013, Shell has produced more gas than oil, and Total has been doing the same since last year. Gas constitutes 47% of total production for Exxon, up from 39% six years ago, reports Bloomberg.
Meanwhile, Shell prepares to drill for oil in the Arctic, Statoil is expanding in the Barents Sea. But while every other oil company has dropped their renewable energy divisions, Statoil just created one.

Coal is Not the Target
"Coal is not the target. The target should be emissions. It's true that gas is half as emitting as coal. You could say it's twice as clean, or you could say it's just half as dirty," Joan MacNaughton, executive chair of a recent World Energy Council climate change report, told Bloomberg.
The report concurs with oil companies' desire for policy certainty, saying it is one of the biggest obstacles to gaining the $48-53 trillion of investment needed to decarbonize almost all power generation by 2050. A carbon tax is one of their five policy "enablers" because it would level the playing field and redirect investment to low-carbon solutions.
Everyone from economists to the world's largest investors to the International Energy Agency and The World Bank are calling for a carbon tax. At last year's UN Climate Summit, the US did not join the 73 countries, 22 states, provinces and cities – who signed a declaration calling for an international price on carbon, either through a tax or cap-and-trade program.
Read our article, Study Counters Widely Held View of Benefits of Natural Gas.
Read the oil companies' letter to Financial Times:
Website:
[sorry this link is no longer available]
(Visited 5,011 times, 13 visits today)