President Obama is perplexing when it comes to his actions related to climate change (and trade deals).
How can his administration seek to reduce coal use by regulating power plants (EPA's Clean Power Plan), while handing out leases to mine coal on federal public lands?
And the size of these leases are eye-popping.
Under the Obama Administration, public land that holds 2.2 billion tons of coal have been leased, says Greenpeace, and that's just the beginning.
In Wyoming's Powder River Basin (Buffalo RMP Proposal), where most of the coal lies, the Department of Interior's Bureau of Land Management (BLM) plans to issue 28 leases to coal miners spread over 106,400 acres. That would yield about 10.2 billion tons of coal, they say (and what does it do to our forests?).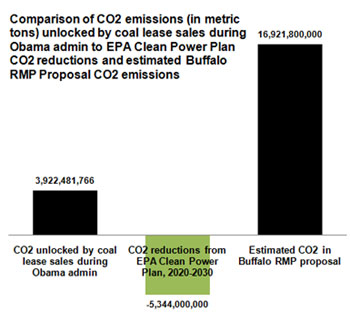 And this is after a federal judge blocked expansion of a Colorado coal mine last year because BLM didn't consider climate change ramifications before approving it! The same judge did the same for Colowyo Coal Co. – which is appealing the ruling – and another judge, this time in New Mexico, blocked expansion of a mine there.
Major Source of US Emissions
This leasing program is the source for 40% of US coal and clearly it's meant for export because the US doesn't need it.
And it contributes much of the carbon emissions in the US. In 2010, it led to 889 million metric tons of carbon emissions – 57% of emissions produced from fossil fuel extraction on public lands.
In all, "fossil fuel extraction from federal lands and waters accounted for about 23% of total US greenhouse gas emissions and 27% of all energy-related GHG emissions" in 2009, according to the report, "Greenhouse Gas Emissions from Fossil Energy Extracted from Federal Lands and Waters.
Under Obama, we've seen the mainstreaming of renewable energy, but we have also seen more oil and gas permits on public land (with streamlined processing); an unregulated fracking boom; more offshore oil drilling even extending to opening the Atlantic coast and the Arctic; and even stopping just one tar sands pipeline (Keystone) is taking a gargantuan effort.
Read our articles, Western Towns Want Coal Miners to Pay for Climate Adaptation and Even At Bargain Basement Prices, No Coal Company Bids At Auction.
Read Greenpeace's report, Leasing Coal, Fueling Climate Change:
Website:
[sorry this link is no longer available]
(Visited 2,553 times, 6 visits today)