In a great move, new legislation in Washington State incentivizes utilities to build out its electric vehicle (EV) charging infrastructure.
"My vision is for utility customers to be able to simply request an EV charging station for their garage, just like they'd request a cable modem installation from the cable company. Because there's no up-front cost to the ratepayer or property owner, many of the current obstacles to charging at home or work will disappear. The end result, we believe, will be more people driving EVs and fewer pollutants in our air," says Chad Magendanz, the state representative – a Republican – who sponsored the bill.
Magendanz drives the electric BMW i3: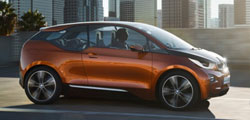 Utilities will get the same guaranteed rate of return when they pay for charging equipment as they would for investments in power plants, transmission-distribution infrastructure or other assets that lead to electricity sales.
While utilities are threatened by investments in energy efficiency (which don't offer a return) and solar, they see revenue from electric car charging as an opportunity. And they have the staff and purchasing power to quickly install chargers in complex situations like condos, apartment and office buildings.
Washington is the cheapest state for owning an electric car.
California Too
Until last year, California only allowed private installers to build EV infrastructure because they feared the much bigger, more powerful utilities would swamp the market.
Since state regulators reversed that decision, all three major utilities have proposals to build and own charging stations in their territories.
Pacific Gas & Electric, for example, wants to build 25,000 charging stations for $654 million from ratepayers – adding about $0.70 a month to residential bills.
"California has the most electric vehicles in the US and PG&E has over 60,000 electric vehicles in our service territory, the most in California and 20% of all US EVs. But with 40% of California greenhouse gas (GHG) emissions coming from transportation, growth in EV infrastructure is not fast enough to drive adoption of the electric transportation needed to meet the state's 80% GHG reduction by 2050 goal," says James Ellis, PG&E Director of Electrification/Electric Vehicles.
Elsewhere, utilities are starting to facilitate the switch to EVs by offering rebates for vehicle purchases and home charging equipment. Georgia Power, for example, gives a $250 rebate for residential EV chargers (up to $500 for businesses) under a pilot program, and has different electricity rates for EV drivers. 23 utilities off specific rates for EV users, says Edison Electric Institute.
Read our article, World Is Moving to Distributed Energy: 165 GW by 2023.
(Visited 2,783 times, 29 visits today)