In his latest book, The Great Transition, Lester Brown and co-authors catalog the developments under way that are leading us away from fossil and nuclear fuels to renewable energy.
It's easy to forget how far we've come, here are seven crucial milestones we have passed on our path to a green economy, laid out in the book: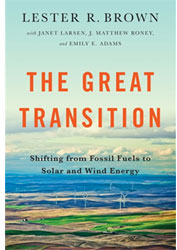 1. Solar is so cheap that global adoption appears unstoppable.
2. Wind is rapidly altering energy portfolios around the world.
3. National and subnational energy policies promote renewables, and many governments are considering a price on carbon.
4. The financial sector is embracing renewables and starting to turn against fossils and nuclear.
5. Coal use is declining in the US and will likely fall sooner than expected globally.
6. Transportation will move away from oil as electric vehicle fleets expand rapidly and bike- and car-sharing spreads.
7. Nuclear is on the rocks thanks to rising costs and widespread safety concerns.
In his previous book, World on the Edge, Lester Brown showed that it would take a mere $110 billion a year to restore the economy's natural support systems – reforest the earth, protect topsoil, restore rangelands and fisheries, stabilize water tables, and protect biological diversity. A bargain by anyone's standards.
++++
Read Chapter 1 of The Great Transition: Shifting from Fossil Fuels to Solar and Wind Energy:
(Visited 4,605 times, 20 visits today)