Employment in renewable energy worldwide jumped 18% last year to more than 7.7 million people, according to the International Renewable Energy Agency (IRENA) annual review.
Top 10 countries: China (3.5 million), Brazil, US, India, Germany, Indonesia, Japan, France, Bangladesh and Colombia.
Five of the 10 top countries for renewable energy jobs are now in Asia and just 25% of jobs are in the US and European Union, down from 31% in 2012.
Solar PV is the largest employer with 2.5 million jobs, followed by liquid biofuels with 1.8 million jobs, and wind power, which surpassed 1 million jobs for the first time this year. Biomass, biogas and small hydropower are also seeing increases.
IRENA estimates employment will more than double by 2030 to 16 million jobs if the share of renewable energy in the global energy mix doubles by then.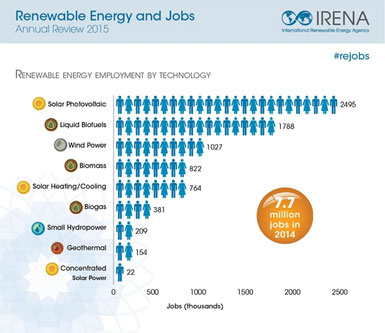 Read our article, 70% Renewable Energy Possible By 2030, says World Survey.
Read the report, Renewable Energy and Jobs – Annual Review 2015:
(Visited 3,743 times, 1 visits today)