Doctors around the world are increasingly calling for divestment from fossil fuels, naming it the greatest threat to global health of the 21st century.
It started last year when the British Medical Association voted to divest and has since been spreading through the world health community.
In Australia, Doctors for the Environment say, "The current trajectory of emissions growth and warming will lead to a world not easily habitable, and with disastrous health effects for many. Our generation has a rapidly closing window of time in which to act to avoid the worst health impacts of climate change. "We can all make our savings a force for health, not harm," reports Medium.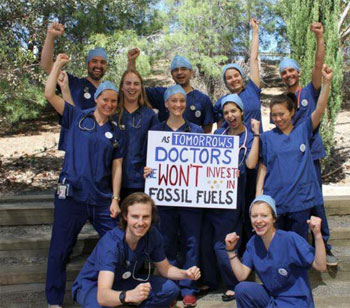 An influential piece in The British Medical Journal (March 2014) urges the health community to divest – hospitals, universities, medical societies, pharmaceutical and medical companies. "We should push our own organisations to divest from fossil fuel industries completely and as quickly as possible, and reinvest in renewable energy sources."
In an open letter, the International Federation of Medical Students' Associations says fossil fuels are a greater risk to peoples' health than tobacco, reports The Guardian.
The letter urges the Bill and Melinda Gates Foundation and Wellcome Trust – among the largest organizations devoted to world health – to divest as a moral obligation and to let the world know how serious climate change is.
The association, which represents 1 million medical students in 119 countries, compares the health impacts of climate change to tobacco, which kills six million people a year.
The letter says:
We share a responsibility to our future patients to address unmitigated climate change – described as "the biggest health threat of the 21st century" – and to advocate for a transition to a healthier, more sustainable economy.
The British Medical Association has already divested and many other medical and health organisations are following suit. Continued investment in the fossil fuel industry violates health workers' obligations to do no harm and grants the industry the social license to explore and exploit still further reserves, resulting in catastrophic global warming.
Climate change threatens health both directly through frequent flooding, heat waves and natural disasters, and indirectly by worsening food insecurity, conflict and mental health. Fossil fuels also directly harm workers and local communities by toxic exposures, air pollution and local environmental degradation. A transition to renewable energy generation and low-carbon, active transport would prevent millions of deaths worldwide from cardiovascular, respiratory, and other diseases.
30 years ago, health professionals declared that investments in the tobacco industry violated their responsibility to protect and promote health. They triggered a wave of divestment that played a significant role in the tobacco control movement's subsequent successes.
The threat to public health posed by fossil fuels is even greater, but fossil fuel companies – just like the tobacco industry – continue to fund the subversion of scientific research into climate change and legislation directed at its mitigation. The arguments that led the health sector to divest from tobacco provide a still more compelling mandate for divestment from fossil fuels."
Doctors have also come out against the secrecy of the Trans-Pacific Partnership and want mandatory pre-market safety testing of all GMOs.
Read our article, Fossil-Free Portfolios Outperform Those With Coal, Gas, Oil.
(Visited 5,219 times, 12 visits today)