The first hydrogen-powered train just came off the assembly line in China and will soon be operating in Qingdao.
It looks like a bullet train, but it is called a tram because it's meant for short city trips right now. It has a 62-mile range and a top speed of 43 mph, with room for 380 passengers.
Built by Sifang, a subsidiary of state-owned China South Rail Corporation, it runs on hydrogen fuel cells, an "advanced permanent-magnet synchronous motor and frequency converter."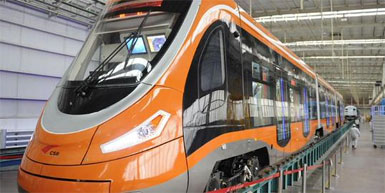 China plans to spend $32 billion in the next five years to reach over 1,200 miles of tram tracks in numerous cities, up from just 83 miles now, says Xinhua News.
The city of Foshan – with 8 million people – is taking the lead on hydrogen. Last year, it invested $72 million to bring Sifang's factory and distribution system there, and they are collaborating on a national hydrogen research center in the city, reports Bloomberg.
Shanghai has Maglev trains – super high-speed trains that "float" at top speeds of 260 mph, and work is advancing on speeds as high as 371 mph.
Instead of running on wheels, Maglevs are propelled along tracks electromagnetically, eliminates friction and providing a smooth, quiet, very fast ride.
In Japan, a Super-Maglev that reaches 311 mph carried passengers during an eight day test last year. It enters full service in 2027, when it will take 1000 passengers between Tokyo and Nagoya (167 miles) in 40 minutes.
Japan wants to spread the technology and even offered the US a $4 billion loan (half the cost) to build a Super-Maglev between Baltimore and Washington DC. It would cut the one hour commute (37 miles) to 15 minutes. Another line would run from Boston to DC. Although there's been interest on both the state and federal level, it's hard to imagine the US Congress allocating funds for this anytime soon.
(Visited 3,310 times, 22 visits today)