Calling it a landmark accomplishment, the Department of Energy (DOE) announced progress on carbon capture and storage (CSS).
DOE says the projects it's supporting have stowed 10 million metric tons of carbon dioxide underground – equal to the annual pollution from 2 million passenger cars.
In one project, Air Products and Chemicals, Inc. in Port Arthur, Texas, is demonstrating a state-of-the-art system. Carbon emissions are captured from two steam methane reformers that produce hydrogen. The system separates carbon from process gas and is sent through a pipeline to enhanced oil recovery projects nearby. Nearly 2 million metric tons of carbon have been captured.
"The U.S. is taking the lead in showing the world CCS can work. We have made the largest government investment in carbon capture and storage of any nation, and these investments are being matched by private capital," says Ernest Moniz, Secretary of Energy.
Carbon is captured from power plants before it's released into the atmosphere and injected underground in deep geologic formations. An alternative is to sell the carbon for enhanced oil recovery and, in the future, carbon could be used to make lots of products such as fuel, plastics, building material and fertilizers.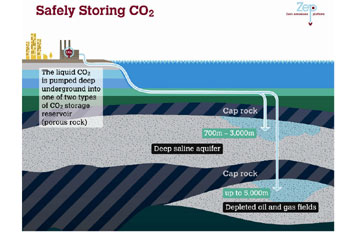 But most of all it can save the coal industry through "Clean Coal." Under EPA's power plant regulations, coal plants can comply with the rules if they are equipped with CSS technology. DOE has appropriated $8 billion for innovative technologies that make fossil fuels cleaner.
DOE's Regional Carbon Sequestration Partnership is focused on determining the best regional approaches for storing carbon in geologic formations. Some 400 organizations across 43 states and four Canadian provinces are identifying optimal technologies, geologic carbon storage sites, regulatory options and infrastructure requirements to ensure carbon is stored safely.
DOE's Industrial Carbon Capture and Storage program – a $1.4 billion investment initiated under the 2009 Recovery Act – is demonstrating how CCS can be used at industrial facilities.
Last year, the world's first commercial-scale carbon capture experiment began at a Saskatchewan coal-fired power plant, which will purportedly capture 90% of emissions. Most will be sold for enhanced oil recovery – recouping project costs – similar to the $1 billion project NRG is developing in Texas. The rest will be stored deep underground in rock formations.
Other smaller carbon capture projects are in Illinois (from an ethanol plant), Texas and in Norway (from a refinery). Most other projects in the US and EU have been cancelled.
Read our article, ATMI Commercializing Cheap Carbon Capture Process.
(Visited 11,395 times, 98 visits today)