Is it realistic to transform the power sector mostly to renewable energy?
Yes, it is, according to a worldwide survey of energy experts.
Almost half say the world could be running on 70% renewables by 2030, and 82% say it can happen by 2050.
"70% renewables is not mainly a technical or commercial discussion. It is mainly a political question," Sven Utermohlen, director of construction and engineering for German utility E.ON, told Greentech Media.
Last year, E.ON made the landmark announcement that it would revise its business model to focus on renewable energy and divest the fossil fuel side of the business.
Another respondent says, "The days of 'monopolized' power are coming to an end … get smarter or get out of the way."
Industry rigidity is the other major problem, which is intertwined with politics.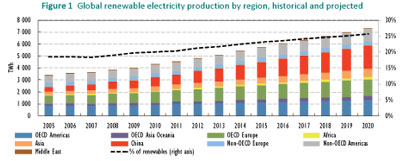 "A high renewables future demands a dramatic change in the industry's approach to integrating new technology. We need to adopt more collaborative approaches and go beyond old metrics, beyond old rules and beyond old silos. A shift away from a paradigm in which renewables are considered a nuisance to be accommodated to one in which the true potential of renewables in balancing and securing grids is unlocked, says David Walker, CEO of DNV GL-Energy, the international energy consultancy that conducted the survey.
Major findings:
Renewable energy developers currently face conflicting demands from policymakers (must be cheap) and system operators (must be reliable). Assessments should be based on market value to satisfy both sides of this equation.
While developers and manufacturers see huge opportunities in the shift, utilities are threatened. New rules are needed so that all stakeholders have the same incentives.
New entrepreneurial solutions will expand the electricity business into a true 'internet of energy'. The energy "trilemma" – balancing system security, affordability and greenhouse gas reduction – can't be solved within current power sector boundaries.
The survey, "Beyond Integration," explores how to best accelerate the integration of renewables into global electricity grids. DNV GL conducted the survey in 70 countries. Respondents ranged from system operators to developers, manufacturers to policymakers, with 60% at senior management levels.
DNV GL was chosen to operate the new energy storage R&D facility, NY-Best. It is kicking in $16 million and relocating its energy storage testing operations there.
Here is the study:
Website:
[sorry this link is no longer available]
(Visited 6,060 times, 98 visits today)