by Rona Fried
Writing about Vancouver's vote for 100% renewable energy today, I thought, here's another tipping point we're reaching.
The idea of reaching for 100% renewable energy suddenly looks realistic and within reach, when just a few years ago it was viewed as a pipe dream.
Not only does this show how much progress has been made in such a short time – setting the stage for this change in perception – it also shows that leaders are now ready to take this transition on.
After the first brave leaders do it, others quickly follow, and soon it becomes accepted as something everyone needs to do.
Let Us Declare It NOW: 100% is our Goal!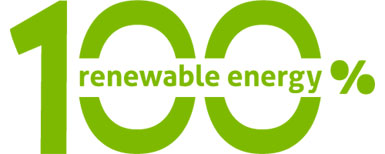 So far, governments are leading on this, from small towns to some of the world's largest cities. At December's Lima Climate Summit over 100 countries adopted a target of net-zero greenhouse gas emissions by 2050.
During September's Climate Summit, a dozen companies got the ball rolling on REE100, an effort to convince 100 of the world's largest businesses to run completely on renewable energy by 2020.
Denmark and Scotland, are far along on this path, with goals of 100% renewables by 2050 and 2030, respectively.
Towns/Cities With 100% Renewable Energy Goals include:
Georgetown, Texas and Leelanau Township, Michigan:
these are examples of how the smallest towns and cities can lead on converting completely to renewable energy. Since they don't much energy to begin with, it doesn't take a big leap.
About 20 others in the US are working toward this goal: Aspen, CO; Burlington, VT (already there, but too much reliance on big hydro); Greensburg, KS; Ithaca and East Hampton, NY; Lancaster and Palo Alto, CA.
La Paz, Mexico: 100% solar powered.
In Germany, more than 140 towns, cities and regional networks have achieved 100% renewable energy.
Bonaire, the tiny island in the Caribbean is close to reaching its goal of 100% by 2015 through wind and energy storage. The diesel used for backup will eventually be replaced by algae-based biofuels.
Copenhagen, Denmark: Carbon neutral by 2025. Offshore wind supplies most of its electricity and the city is working on transportation and heating through combined heat and power and geothermal energy. Malmö, Sweden has similar goals and they are working together.
Reykjavik, Iceland: 80% of all energy (and 100% of electricity) comes from hydrogen and geothermal.
Munich, Germany: 100% renewable electricity by 2025. With 1.35 million people, this is Germany's third largest city.
Perpignan Méditerranée region in France: already gets 75% of electricity from renewables – its goal is 100% from local projects.
Sydney, Australia: 100% renewables by 2030 and 70% less emissions through a variety of renewable sources, especially combined heat and power.
San Diego, California: 100% renewable electricity by 2035 and 50% lower greenhouse gas emissions.
San Jose, California: 100% renewable electricity by 2022, up from 41% now.
Read our article, One More Time: US & World CAN Swiftly Convert to 100% Renewable Energy.
You can track all 100% renewable energy commitments http://go100re.net/ and here:
Website:
[sorry this link is no longer available]
(Visited 10,794 times, 102 visits today)