There are more indications that the world is reaching a tipping point – and it is firmly toward renewable energy and away from fossil fuels.
Take this line, for example: Going forward, almost all investments in the power sector will be in renewable energy.

Pretty startling, and it comes from the National Bank of Abu Dhabi, one of the largest banks in the Mideast.
"Prices have fallen dramatically in the past few years: solar PV falling by 80% in six years, and onshore wind by 40%. The speed of this shift towards grid parity with fossil fuels means that, in many instances, perceptions of the role of renewables in the energy mix have not caught up with reality," the report says.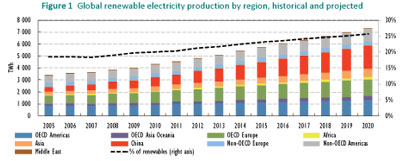 "Cost is no longer a reason not to proceed with renewables," noting that solar even beats oil at $10 a barrel and gas at $5 per mmbtu.
Amazing! That's based on reality – in Abu Dhabi's latest auction, the winning bidder offered solar electricity for 5.84 cents per kilowatt-hour – without subsidies – a third cheaper than gas. Saudi-based ACWA Power won the contract to build a 200 megawatt solar PV project using First Solar's thin-film modules.
Within two years, solar PV and onshore wind will be cost-competitive in 80% of the world, the Bank says, noting that renewables already account for more than half of all new investments in electric capacity.
Outsized Growth Coming
Most of new demand will sprout from the "West-East Corridor" across the Middle East, Africa and Asia, "characterized by the rise of new mega cities, rapid industrialization, and growing middle class wealth and expectations."
This provides a "huge opportunity to leapfrog traditional approaches to developing energy systems, moving immediately to cutting edge technologies, more cost-efficient and decentralized systems, and applying more innovative approaches to finance these developments."
Since most of the growth in energy demand will be for electricity, it can be met through renewable energy and energy efficiency, the report says.
The bank expects $48 trillion to be invested in new power over the next two decades – 170 gigawatts in North Africa and the Mideast alone by 2020.
Energy Storage Boosts Solar to Primary Electricity Source
What's needed is the ability to store energy from renewables and that too is moving rapidly. Within the next five years, batteries will be technologically ready for large-scale use, says Deutsche Bank in the report, Crossing the Chasm.
"Using conservative assumptions and no incentives, our model indicates that the incremental cost of storage will decrease from ~14c/kWh today to ~2c/kWh within the next five years," they say.
Mass adoption of batteries could happen before 2020, and solar will become the dominant electricity source as it is increasingly cheaper than coal. The bank expects solar to generate $5 trillion in revenue over the next 15 years, rising to 30% of global power generation by 2050, from less than 1% now.
In the next 10 years, utilities will have a substantial opportunity to begin aggregating residential neighborhoods with solar + batteries to behave as a single source of load reduction, the report says. WOW.
"We expect electricity prices worldwide to double over the next 10-15 years making the case for solar grid parity even stronger."
Read the National Bank of Abu Dhabi's report, Financing the Future of Energy – The Opportunity for the Gulf's Financial Services Sector:
(Visited 5,946 times, 20 visits today)