A unanimous vote in favor of solar from Georgia's House and Senate?
Yes! and the "Solar Power Free-Market Financing Act of 2015" now goes to the Governor for his signature.
So, what are both houses so excited about? Like most states in the country, Georgia will allow companies like SolarCity to lease solar systems to customers and sell excess power to utilities through net-metering.
And because solar leasing is finally allowed in the state, the utility will also begin installing solar systems using that model this summer.
But there's a catch.
In exchange, Georgia Power, the state's largest utility, got what it wanted – the right to charge solar installers or solar customers for equipment that connects to the grid, and to charge fees "to protect public safety, power quality, and system reliability."
This vague language leaves the door open for the "solar free-loader" fees many utilities are fighting for, viewed by the solar industry as a disincentive for people to turn to solar. Since the option is written into the law, Georgia Power would be able to quietly add charges without the fight.
Georgia Power is building solar projects at three Army bases in the state, each 30 MW each. The "3X30" project will allow the Army to use solar for 18% of its electricity in Georgia.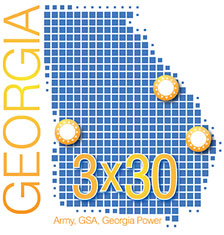 While Georgia ranks #15 on solar capacity with 142 megawatts (MW) installed, the utility expects to build or contract for 900 MW of solar by 2016, and is importing 250 MW of wind from Oklahoma.
Four states still prohibit solar leasing by third-parties: Florida, Kentucky, Oklahoma and North Carolina.
(Visited 3,703 times, 4 visits today)