Last week we wrote about a small town in Michigan opting for 100% renewable energy, and we touted it as a way to get off fossil fuels from the bottom up.
They hope to provide a model for other towns to follow and already we've heard that Georgetown, Texas will run solely on wind and solar next year.
While Michigan's Leelanau Township has just 2000 residents, Georgetown has 50,000.
How are they doing it? It's simple. Last year, the town contracted for 144 megawatts (MW) of Texas wind for half the electricity and the other half will come from solar. They contracted with SunEdison to build 150 MW of solar – which takes about six months – and they will pay for all the output under a 25-year power purchase agreement.
Both contracts will deliver electricity to Georgetown over the long term at a lower cost than previous wholesale power contracts for natural gas, they say. And there are no upfront costs.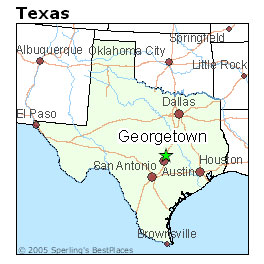 "They're using solar and wind as a hedge against rising fuel costs," Paul Gaynor, Executive Vice President of North America for SunEdison, told Bloomberg.
When the project is finished, it will be rolled into SunEdison's Yieldco, TerraForm Power.
"Wind and solar now cost less than building a new coal or natural gas plant and have no risks related to fuel costs or water shortages. We in Texas know the excruciating pain that comes when natural gas prices spike and electricity bills go through the roof," Tom Smith, director of Public Citizen's Texas office, told Bloomberg.
"The combination of solar and wind power allows the City to provide energy from complementary renewable sources to meet demand patterns," the city says. Solar produced in West Texas provides a daily afternoon supply peak that matches Georgetown's daily energy demand peak, especially during hot summer months. Wind production in West Texas tends to be highest during off-peak, evening or early-morning hours. This means wind power can most often fill power demand when the sun isn't shining," the city explains.
And while nuclear and fossil fuel power plants consume large amounts of water, turning to solar and wind will eliminate impacts on the water supply, another key goal for the city.
We hope many more towns and cities will take this cue because it could bring a much faster transition off fossil fuels. While most states shoot for 10-20% renewable energy in the coming years, imagine how that can be speeded up by each town converting to 100% during that time.
About 20 towns/ cities in the US are on this path, including: Aspen, CO; Burlington, VT (already there, but too much reliance on big hydro); Greensburg, KS; Ithaca and East Hampton, NY; Lancaster and Palo Alto, CA. You can track them and those around the world at www.go100percent.org
The Natural Gas Gamble
A report by the Union of Concerned Scientists (UCS), The Natural Gas Gamble, concludes that as utilities rely increasingly on natural gas, customers are increasingly vulnerable to higher electricity bills. Ramping energy efficiency and renewable energy resources helps to insulate consumers from these risks.
"If renewables made up a much greater share of the US electricity mix and were combined with investments in energy efficiency, electricity prices would stabilize and consumers would ultimately pay less for their energy. With a limit on carbon emissions and strong renewable energy and energy efficiency policies, by 2040 renewables could make up nearly 40% of the electricity mix and consumers would see an annual net savings of $59 billion (in 2013 dollars)," says UCS.
Read the report:
(Visited 40,532 times, 13 visits today)