President Obama issued an Executive Order today (oh no, more overreach!), substantially raising the bar for federal agencies on emission cuts and use of renewable energy.
Wow – the Federal government must cut emissions 40% by 2025, from 2008 levels. AND they must increase the share of renewable energy to 30% of ALL energy, not just electricity.
Interesting that these are basically the same as Europe's targets – and should be our US targets – but getting the Republican majority in Congress to go along with climate goals is out of the question.
Here's what is required by 2025:
25% of all energy comes from renewable sources (30% electricity).
Cut energy use in federal buildings 2.5% a year.
Reduce water intensity in federal buildings 2% a year.
Reduce per-mile greenhouse gas emissions from federal fleets 30% from 2014 levels.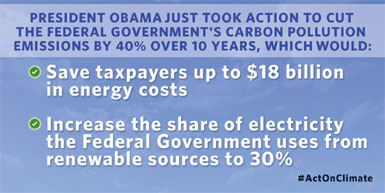 Given that the federal government is the biggest energy user in the US, this executive order will have a big impact. There are 360,000 buildings, 650,000 fleet vehicles, and $445 billion a year spent on contractors.
At the White House Roundtable on Greenhouse Gases, held today with major suppliers that hold 40% of government contracts – many announced new commitments, which will be tracked publicly through a new Federal Supplier Greenhouse Gas Management Scorecard.

Obama is building on Executive Orders issued in 2009, requiring agencies to cut emissions 28% by 2020 and new buildings to be net-zero energy by 2030 – and another in 2013, requiring 20% renewable energy by 2020.
What's been achieved?
Since 2009, greenhouse gas emissions are down 17%, energy use 9%, water use 19%, and renewables have increased in share from 3% to 9% as of 2013. The federal government uses the same amount of energy as it did in 1975, when FEMP began collecting data.
As of 2013:
Department of Energy cut emissions more than 34%
Environmental Protection Agency cut emissions more than 57%
General Services Agency cut emissions more than 53%
Department of Defense – which uses the most energy in the federal government – cut emissions 10%, while making significant progress toward its goal of 3 gigawatts of renewables by 2025.
"It is not just the agencies that have environment and energy as part of their missions that are showing leadership in meeting the President's climate and energy goals. What is remarkable about this effort is how agencies ranging from NASA to the Department of Health and Human Services now see this as part of their mission," say Secretaries Ernest Moniz, Gina McCarthy, and Denise Turner Roth.
Last year, Obama issued an executive order that brings more energy efficiency and solar to the federal government, which also includes private sector commitments.
Obama's voluntary goal for the US is to cut emissions 26-28% by 2025, below 2005 levels.
Federal Contractor Commitments
Companies attending the White House Roundtable on Greenhouse Gases each do more than $1 billion a year in business with the federal government, adding up to $45 billion in contracts. Here's a sample of their commitments:
IBM: 20% of all electricity will come from renewables by 2020!, while cutting energy-related carbon emissions 35% from 2005 levels.
They will buy over 800,000 megawatt-hours a year of renewable energy, an amount equal to a city of 100,000 people. Through conservation efforts, IBM already avoids 40% of its 1990 emissions.
General Electric: reduce emissions and water consumption 20% by 2020, from 2011 levels, while investing $25 billion in R&D.
That's in addition to the $15 billion it has spent since 2005 on developing environmentally responsible products through Ecomagination. The investment has paid off in $200 billion in revenue from these products. As of 2013, GE's emissions are down 34% and water use is down 45% from 2005 levels.
Hewlett Packard: reduce emissions intensity of entire product portfolio 40% by 2020 (from 2010 levels), on top of the 20% it cut as of 2011.
Read our article, Want a Federal Government Contract? Meet Annual Emissions Targets.
Read all the commitments:
Website:
[sorry this link is no longer available]
(Visited 4,941 times, 11 visits today)