If you thought India's goals for solar were high at 15 gigawatts a year, China can still beat that.
China says it will install 17.8 gigawatts of solar this year, raising the target 20%. That's almost as much as the entire US has at 20 GW.
If they follow last year's plan, about half will be rooftop solar – a priority for the first time – as a way to reduce pollution in populated centers, and get off coal. Until now, almost all solar systems have been built in remote locations at utility-scale, requiring big investments in transmission infrastructure.
Since most people don't live in single family homes, rooftop solar and small, ground-mounted projects would be on large rooftops of industrial and commercial companies, and public buildings like rail stations and airport terminals.
According to news sources, China missed the mark last year on small solar because lots of distributed systems are more complicated to finance and install.
The country can reach 26% renewable energy by 2030, according to the International Renewable Energy Agency (IRENA) in Renewable Energy Prospects: China. Looking only at electricity, renewables could supply 40% by then (including hydro and nuclear). And that would bring 18% lower coal consumption.
"China's energy use is expected to increase 60% by 2030. How China meets that need will determine whether or not the world can curb climate change," says Adnan Amin, Director-General of IRENA.
According to IRENA, 2.6 million people work in the renewable energy industry in China.
Determined to Clean Up Pollution
The country has a new Minister of the Environment, Chen Jining, an environmental scientist and former president of the prestigious Tsinghua University.
His predecessor was known as a "consummate insider" that let industry get away with skirting requirements, which came to a head with the recent release of the film, "Under the Dome," which made headlines when it went viral.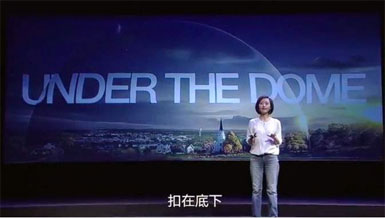 While the population has been protesting polluted air and water for years, the film is widely seen as the final wake-up call – China's "Silent Spring." Viewed an amazing 200 million times for a 104-minute film, it exposes the devastating impact China's industries have had on air quality, and the government that has failed to regulate them. While the media and government originally lauded the film, the files have quietly become unavailable.
Amazingly, companies have been covering up their pollution in some innovative ways, like "rigging automated pollution-monitoring systems to fudge data, discharging pollution through secret underground pipes and dumping toxic waste into rivers in the dead of night," reports CleanBiz.Asia.
And China's air pollution is making it all the way to the US. Various pollutants, from acid rain-inducing sulphate to black carbon, travel on "westerly winds," reports Reuters.
"We've outsourced our manufacturing and much of our pollution, but some of it is blowing back across the Pacific to haunt us," Steve Davis, a scientist at University of California Irvine, told Reuters. One third of China's greenhouse gases is attributed to its export industries, according to Worldwatch Institute.
Read our article, Climate Change Reframed: China, World Bank Prioritize Pollution.
(Visited 4,855 times, 4 visits today)