Walmart is taking the next step on its Sustainability Index by making it public through an online green shopping site, Sustainability Leaders.
There, customers can choose products from suppliers that lead on Walmart's Sustainability Index – about 3000 products are listed across 80 categories, from electronics to clothing.
By 2017, 70% of all products sold in the US will come from suppliers that use its Sustainability Index, says Walmart.
Since 2009, Walmart has been rating suppliers on environmental and social criteria in concert with The Sustainability Consortium, an independent organization that works with manufacturers and researchers to create strategies and tools that drive more sustainable consumer products. Suppliers get ranked annually on factors like energy use and recycled content of products.
Shoppers will be able to discern which manufacturers rank highest among their peers for a given product category, but they won't be able to tell which individual product is better than an another.
Products are displayed with this "badge":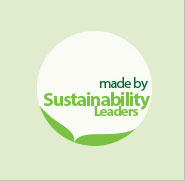 Fact sheets on the site detail the criteria, so shoppers can understand the environmental and social factors that matter most for each kind of product.
We didn't find the site particularly informative. We clicked on various products and didn't see anything that led us to information on sustainability. Products like Kleenex are listed, but all we could find is that the box is made from recycled paper – what about clearing of forests to make the paper?
"These tools are used by hundreds of Walmart suppliers across sectors to drive sustainability in the supply chain, and now this information is being directed to Walmart consumers to help inform the choice of products they use every day," says Sheila Bonini, CEO of The Sustainability Consortium.
Walmart says, "We've heard from our customers that the main barriers in acting on sustainability are: 1) knowing what sustainability actually means; and 2) understanding which companies are doing better than others. Customers should also do research on the products they buy.
Target has a similar website, Made to Matter. Last week, the company announced it expect to earn $1 billion from the site this year and is expanding the number of brands and product categories.
Read our article, Walmart Kicks Sustainability Up Another Big Notch.

Here is Sustainable Leaders:
Website:
[sorry this link is no longer available]
(Visited 4,445 times, 35 visits today)