The ribbon cutting for Desert Sunlight took place yesterday, officially marking the beginning of full power generation at the world's largest solar farm.
At 550 megawatts, it produces enough electricity for 160,000 average-size homes while displacing 300,000 tons of carbon that would otherwise enter the atmosphere every year. It's just a hair bigger than Topaz, which came online in October, but it will produce more energy because it's in the sunniest of locations.
These and other huge solar plants helped solar provide 1% of all US electricity last year.

Desert Sunlight spans 3800 acres of federal public land in Riverside County, about 70 miles east of Palm Springs, California. Built by First Solar, it consists of 8 million thin-film PV modules. It is owned NextEra, GE Energy Financial Services, and Sumitomo Corporation of America.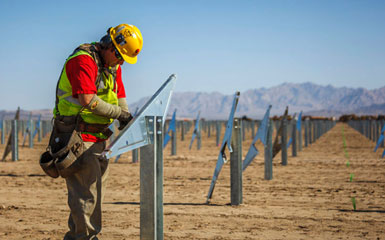 Originally proposed for 19,000 acres, the project's footprint ended up significantly smaller after environmental reviews. Project owners are also funding acquisition and enhancement of about 7,500 acres of habitat as part of environmental mitigation.
Supported by a Department of Energy federal loan guarantee of nearly $1.5 billion, the backing was crucial to jump-starting utility-scale solar projects in the US. The program provided guarantees for five other big projects and since then 17 others have been built without needing its help.
Desert Sunlight is the sixth utility-scale solar project operating on public lands and another 8 are under construction in California and Nevada. Together with wind and geothermal, renewable energy projects built on public lands since 2009 are producing over 2.2 gigawatts (GW) of power, and there's an additional 2.5 GW under construction.
Another 52 utility-scale renewable energy projects – including 29 solar – have been approved, for a total of 14 GW if they all get built. All told, they would power about 4.8 million homes.
Pretty amazing, because prior to 2009, there were no utility-scale solar projects in the US. The President's Climate Action Plan calls for 20 GW of renewable energy on public land by 2020.
Including small solar, the US now has 20 GW of capacity, with 20GW more in the pipeline during the next two years.
Even Bigger Solar Projects?
One reason Desert Sunlight's footprint was reduced so much is because of the vehement opposition it faced from the environmental community.
Most developers don't want to go through the difficult and expensive environmental review/ mitigation process and are thus gravitating to smaller projects that are quick to build and don't infringe much on species and their wild habitats.
"It all has to do with how much appetite (states) have for how much land to utilize, and to be committed for 20-25 years," Georges Antoun, COO of First Solar, told Desert Sun. He expects most projects to be in the 100 MW range and located close to markets where there is easy access to transmission lines.
Having built many of the biggest projects, including Desert Sunlight and Topaz, First Solar is currently working on the 750 MW McCoy Solar Energy Project. Currently at 250 MW, it may not reach the full size.
"When I look out at this view behind me, I see not just a great opportunity for Riverside County, which it is, or for California. I see the deserts of the Middle East. I see the deserts of Africa, or Asia, or South America. We've built the largest solar facility in the world, right here. It can be done elsewhere," Neil Kornze, Director of the Bureau of Land Management, told Desert Sun.
Read Department of Energy's Investing in American Energy, which describes the success of its loan program:
(Visited 4,767 times, 14 visits today)