When General Motors factories in Mexico begin running on wind energy next year, the company will reach its goal four years early – using 125 megawatts (MW) of renewables by 2020.
GM is buying 34 MW from a local wind farm that's beginning construction – the output from about 17 turbines. That will supply all the energy for its 104-acre Toluca Complex with some left over for three other factories there.
Combined with the 104 MW solar, landfill gas and waste-to-energy it uses elsewhere, GM will get 12% of all electricity in North America from renewables.
Besides reducing risk and shrinking its carbon footprint, "There's also a good business case as prices for traditional power are about a third greater than the US," notes Rob Threlkeld, Global Manager of Renewable Energy. "Once online, we'll evaluate the project to better understand how we can expand the use of wind power."
GM has two solar arrays at Ohio plants, a 2.2 MW ground-mounted solar systems just finished at the Lordstown Complex, where they build the Chevy Cruze. Incredibly, the 8500 panels still produce only 1.5% of the plant's electricity. They are also switching to LED lights there with a fully wireless control system, its largest conversion in North America. A 1.8 MW rooftop solar system is at the Toledo Transmission facility.
"You don't often think of the Midwest when you think of ideal locations for solar, but reduced costs and increased utility rates have made sites like Lordstown and Toledo optimal locations to expand GM's use of solar power," notes Threlkeld.
Plants in Fort Wayne, Indiana and Orion, Michigan run on some energy captured from nearby landfills.
GM is a founding member of the Business Renewables Center, formed this month to help corporations accelerate use of renewable energy. GM is one of a dozen companies that signed the Renewable Energy Buyers' Principles, asking utilities to make it easy to buy renewable energy.
As of mid-2014, the top 25 companies for solar capacity have a combined 569 MW across 1,110 buildings. With 60 MW installed, GM is one of them, according to the Solar Energy Industries Association. IKEA leads on the percentage of facilities powered with solar, with 9 out of 10 stores now using solar. GM comes in second at 43%.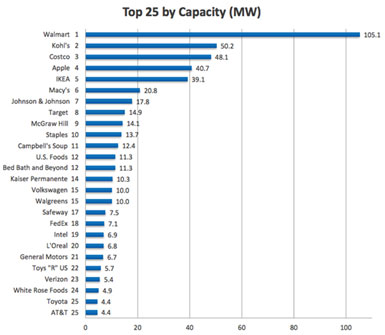 (Visited 4,565 times, 3 visits today)