On Friday, President Obama issued an executive order that directs all agencies – federal, state and local – to incorporate sea level rise projections into planning and construction along US coasts.
Going forward, any project that's in a flood-prone area – including buildings and roads – will have to be able to withstand flooding to receive federal funds, under the new Federal Flood Risk Management Standard.
The executive order builds on FEMA's new policy, which requires states to have climate resiliency plans to qualify for preparedness funds. Both stem from recommendations from the President's State, Local, and Tribal Leaders Task Force on Climate Preparedness and Resilience.
Both executive orders mean big changes in planning models – instead of relying on historical data on floods and sea level rise, they must now look forward.
Another recommendation Obama is implementing builds resilience by restoring ecosystems.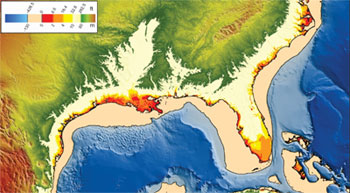 Agencies must use "best-available, actionable hydrologic and hydraulic data and methods that integrate current and future changes in flooding based on climate science." If they don't want to do that, they can build standard projects two feet above the 100-year flood elevation and three feet for critical buildings such as hospitals and evacuation centers; or build to 500-year flood elevation levels.
Building to these standards adds just 0.25% to 1.25% to construction costs, says the White House – not much given the $1 trillion-plus in property damage that is at risk from a "modest" two-foot rise, according to the US National Climate Assessment. Estimates of sea level rise vary widely, but models all show it happening faster than expected on US coasts.
Over 350 state and local governments have already adopted standards along these lines, reports the Washington Post. Since Hurricane Sandy, FEMA and the Housing and Urban Development Department (HUD) have developed new elevation standards that must be met in NY, NJ, Connecticut, Maryland and Rhode Island.
(Visited 5,411 times, 54 visits today)