Congratulations, ALEC and Koch Brothers – your hard work is starting to pay off.
West Virginia is the first state to completely repeal its Renewable Portfolio Standard (RPS) – its incentives for renewable energy.
The state Senate voted unanimously for repeal and the House passed the bill, 95-4 (all four are Democrats). They discussed it for about an hour before the vote.
Enacted in 2009, the RPS requires utilities with over 30,000 residential customers to get 25% of electricity from renewables by 2025, with as much as 10% from natural gas.
It would have been phased in, reaching:
10% renewables from 2015-2019
15% from 2020-2024
25% by January 1st 2025
While utilities no longer need to worry about adding renewable energy, the House bill keeps net-metering for individuals and businesses that choose to install solar. We'll see if it remains in the final legislation.
"I rise to oppose repeal of this bill," said Nancy Guthrie (D-Kanawha), one of the four Democrats that voted NO. "For the life of me, what I can't understand is why this body wants to make a name for itself," she said during the brief debate, reports WOWK TV.
"We are running out of coal, it's that simple. We are going to wear coal around our neck like a yoke that will drag all of us down. This is just political theater, this piece of legislation," she said.
Gary Howell (R-Mineral) retorted that coal is a "diamond necklace hanging around the neck of West Virginia."
Another legislator, Randy Smith (R-Preston), who is also a coal miner, said he ran for public office specifically to repeal the RPS.
In the Senate, Minority Leader Jeff Kessler (D-Marshall) offered an amendment asking a study of the economic and job impact of the RPS. It was rejected.
Mountaintop Removal Coal Mining: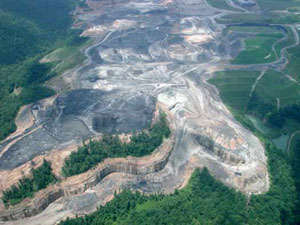 Other than North Carolina, West Virginia is the only southeastern state with an RPS – Virginia's is voluntary. Yes, coal rules in West Virginia, even though its residents suffer under an industry that doesn't care about their health or the environment.
ALEC and Americans for Prosperity are working hard across the states to eliminate support for renewable energy. Last year, Ohio voted to freeze its RPS, which has already resulted in wind and solar companies leaving the state.
Read our article, West Virginia, Where Solar Growth Would Help.
South Carolina Approves Net-Metering
Late last year, South Carolina became the 44th state to institute solar net-metering, and unlike many states, people will be paid at the full retail rate when they send excess electricity to the grid.
"We can expect that public support for local solar power will gain more traction as customers are fairly compensated for the power they generate," Hamilton Davis of the Coastal Conservation League told The State. Environmental groups negotiated for the policy, which keeps the retail rate in place for 10 years. Also, utilities can't lobby for any fixed solar charges until 2021.
Additionally, the state will allow third party solar leasing, one of the few in the Deep South.
Read more about the bill:
(Visited 8,368 times, 222 visits today)