The US and Europe are making major investments in transmission infrastructure that will finally create a renewable energy backbone – driving billions of dollars in new projects and bringing clean energy to much more of the population.
In the US, approved and newly completed transmission lines make it possible for another 35 gigawatts (GW) of renewable energy projects – mostly wind – bringing clean energy throughout the Midwest and to Southern and Eastern states.
Just approved is the SunZia Project. At a cost of $2 billion, two parallel 500-kilovolt transmission lines will traverse 515 miles of federal, state and private lands in New Mexico and Arizona. It will enable construction of 3 GW of wind and solar resources that couldn't otherwise gain access to the grid, enough for 1 million homes. It will create about 6000 construction jobs and potentially 40,000 jobs in new renewable energy projects.
SunZia will run parallel with existing roads and power lines, avoiding major population centers and sensitive areas. The Bureau of Land Management held 28 public meetings on the project since 2009, along with working with local, state and federal agencies and Indian tribes.
"New Mexico could lead the nation in wind and solar energy production, and transmission is the key to unleashing our clean energy potential," says Senator Tom Udall (D-NM).
In 2013, The 990-mile Gateway West Transmission Project was approved, which will be able to carry 1.5 GW of wind energy from southern Wyoming and Utah to Idaho and Washington State. Eventually it extend 2000 miles with the ability to carry 4.5 GW across western states.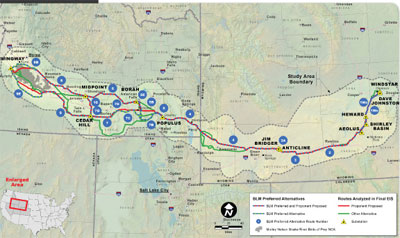 A $6.8 billion transmission project in Texas is carrying wind energy to all the state's cities – spanning 3600 miles, it can carry as much as 18.5 GW. Minnesota is finishing off an 800-mile upgrade this year
In October, the Prairie Wind Transmission line began carrying electricity over 108 miles in Kansas, a linchpin of the "electric superhighway" being built through the windiest areas in Nebraska, Kansas, Oklahoma and Texas and population centers. At a cost of $4 billion, it will allow another 3 GW of wind to connect to the grid in High Plains states.
In the Oklahoma panhandle, the 700-mile, 3.5 GW Plains & Eastern Clean Line will deliver wind power to Arkansas, Tennessee, and other states in the Mid-South and Southeast. It will enable more than $6 billion in new wind farms when it opens in 2018.
The Rock Island Clean Line is waiting for approval to bring wind energy from western Iowa to eastern states through Illinois. The $2 billion, 500 mile transmission line would open another 3.5 GW – $7 billion in new wind projects.
Many of these are being built by Clean Line Energy Partners which offers annual payments to landowners who agree to host the lines.
If the wind industry keeps up the pace, it can provide 30% of US electricity by 2030, more than enough to meet the EPA's Clean Power Plan and a third of the greenhouse gas reductions President Obama committed to in its agreement with China, says Environment America.
Unfortunately, the Republican majority in Congress will probably not allow the industry to receive any further tax credits to make sure it happens.
Read our articles, Landmark Ruling Opens Grid to Renewable Energy and 100% Renewable Energy Indeed Possible, say Stanford U. Researchers.
Europe Too
In Europe, a planned supergrid will integrate renewable energy across all 28 countries, increasing reliability and lessening dependence on gas imports.
"Connecting Europe" will spend $7.5 billion through 2020 in cost-shared grants. Some funds will be used to build LNG plants that enable natural gas imports from countries other than Russia, but most will be used to carry renewable energy between countries, including hydro, offshore wind and tidal energy. One project is the longest under-sea cable in the world between the UK and Norway.
Surpluses in one country will be sent to others that need power, making the grid much more efficient. Originally, the supergrid was also supposed to carry geothermal electricity from Iceland and the enormous Desertec Project in the Sahara Desert, but these have been tabled for now.
Worldwide, the onshore wind market should reach $898 billion by 2020, up from $89 billion in 2013, according to Transparency Market Research.
Nature & Transmission Lines
Siting transmission lines is a double-edged sword. They are necessary for scaling renewable energy, but they sure are ugly and too often clear cut huge swaths of land, fragmenting forests and habitats, while emanating electromagnetic fields that can cause serious illnesses.
Yet, these days any place that's left undeveloped can be an important haven for wildlife. Open land under transmission lines could protect 9 million acres and the land under which pipelines flow, another 12 million acres. Since these projects run hundreds (even thousands) of miles, they could create a network of conservation areas about a third the size of our national park system. They could provide crucial wildlife corridors that allow long migrations and a healthier gene pool where small, segmented populations of the same species can find each other.
Nonprofits are also working with transportation departments to plant wildflowers in medians and along the sides of roads, another 5 million acres that can sequester carbon while aiding wildlife.
For example, open, scrubby habitat under power lines provides habitat for endangered butterflies and is the best place to find native bees, Sam Droege of the US Geological Survey's Patuxent Wildlife Research Center told Yale 360.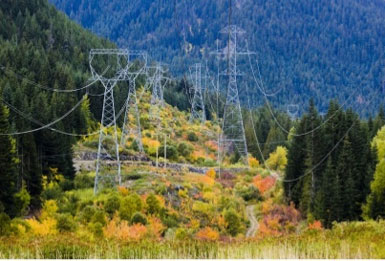 A group has formed to make it happen – the Right of Way Stewardship Council that's setting standards and certifying these lands. Three utilities – NY Power Authority, Vermont Electric and Arizona Public Service are certified and three more are seeking certification. Utilities in Brazil and Australia are also showing interest.
"You're surrounded by evergreen closed-canopy forest and then there's this explosion of color, this linear streak of color, and it's all wildflowers," describes ecologist Kimberly Russell to Yale 360.
Read the full article:
(Visited 6,217 times, 48 visits today)