As of January 1, several big policy changes are in force, mostly coming out of California but with ramifications across the US.
The EPA's "good neighbor rule" is in effect, prevents polluting states from sending toxic emissions to other states that have cleaner air.
Oil companies are now included in California's cap-and-trade program, which means they either have to lower emissions or pay to pollute the air.
The industry is so upset that it plans a coordinated campaign among at least 15 front groups to turn residents against renewable energy and block action on climate in the Pacific Northwest.
In great news, California's new flame retardant law is in full force, which will be felt across the US. Last year, toxic chemicals were no longer required to prevent flammability in upholstered furniture, bedding and even car seats for kids, and this year, they will labeled. Look for the label, TB117-2013 or CA117-2013 to find chemical-free furniture. We'd prefer a label that says "No Flame Retardants", but at least we can finally choose to buy non-toxic products.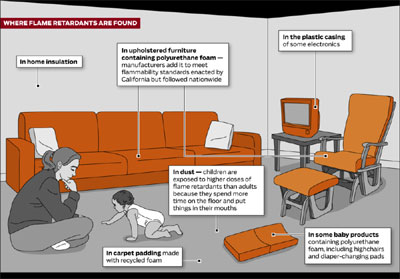 Some of the biggest health care providers announced they won't buy furniture with flame retardants: Kaiser Permanente, Advocate Health Care, Beaumont Health System, Hackensack University Medical Center, and University Hospitals. They are members of the Healthier Hospitals Initiative, which challenges hospitals to green operations in six challenge areas, including reducing the use of hazardous flame retardant chemicals.
"Demand from these health systems will drive the production of furniture that does not include toxic flame retardant chemicals. Because the health care sector is such a large part of the economy, hospitals can help shift the entire marketplace, which will benefit public health and make products safer for everyone," says Gary Cohen, president and founder of Health Care Without Harm and the Healthier Hospitals Initiative.
Last year, over 160 countries agreed to phase out brominated flame retardants, but since the US doesn't participate in the Stockholm Convention, it wasn't one of them.
California is also leading on humane reforms to factory farms, with a provision now in effect that requires calves, pigs and chickens to have enough room to lie down, turn around, stand up, and fully extend their limbs. All eggs sold in the state must come from chickens that have this modicum of space, and pretty much bans veal crates, chicken battery cages, and pig gestation crates.
The law was enacted in 2008 as a result of a voter referendum, finally going into effect this year.
The movement is picking up steam. As of 2013, gestation crates are banned in the EU, and in New Zealand this year, followed by Australia in 2017 and Canada in 2024. Nine states in the US have banned it. On the corporate front, over 60 of the largest food companies are eliminating the cruel practice from supply chains including Nestlé, McDonald's, Burger King, Subway, Sodexo and Compass Group, and even Brazil's largest pig producer BRF.
Safeway is the first national grocer to sell only cage-free eggs in the US, and two of Australia's biggest supermarket chains are phasing out factory farmed pork and eggs.
Finally, Vermont's Yankee nuclear plant is closed, reducing the number of US commercial reactors to under 100. It couldn't compete on price with renewable energy and fracked-gas.
Read more about the impact California's law is already having on farmers:
Website:
[sorry this link is no longer available]
(Visited 3,626 times, 5 visits today)