After years of public pressure, Governor Cuomo did the right thing today by BANNING fracking in NY State.
YES!!
This comes as a big surprise because just weeks ago Cuomo was still hedging on his position, but amazingly he put the interests of citizens ahead of the gas industry.
NY State's decision – based on environmental and health impacts – is very significant because the state sits on the natural gas-rich Marcellus shale. It sets an important precedent for other states to follow – like California – and gives strength to activists across the country that through relentless pressure they can prevail against powerful industries.
A fracking moratorium has been in place in NY State since 2008. Cuomo leaned toward ending it in 2012, but under massive public pressure, he called for one, last study. The first focused on the environment, and this one was on public health impacts.
That was two years ago and since then more than 150 towns and cities across the state have banned it.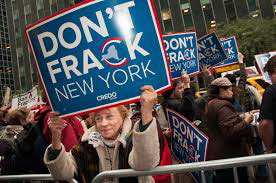 In the end, Cuomo left the decision to the Environment and Health Departments and both decided to ban fracking in the state.
At today's cabinet meeting, Howard Zucker, Acting Commissioner of Health struck a chord with the Governor, when he said, "Would I let my child play in the school field nearby, or my family drink the water from the tap or grow their vegetables in the soil? After looking at a plethora of reports … my answer is no."
The Health Department concluded there "are too many red flags" and potential adverse health impacts to allow fracking. The Department of Environmental Conservation concurs, especially because the economic benefits are "far lower than originally forecasted."
Why? Because of low gas prices combined with expensive industry oversight, and the fact that large areas would be off-limits anyway to protect water systems and the public, says Environmental Commissioner Joe Martens.
Cuomo says the fracking debate has been the "most emotional" one he's dealt with as governor, even topping hot-button issues like same-sex marriage and gun control. Now, he expects lawsuits to overturn the decision.
"I think it's our responsibility to develop an alternative," Cuomo says, "for safe, clean economic development." Just this week, NY State's first community solar projects were funded across the state.
"New Yorkers have made it loud and clear that we want to keep this reckless industry at bay. With this announcement, the governor has listened – and he has demonstrated both courage and national leadership on this critical issue," says Kate Sinding, Natural Resources Defense Council.
Indeed, activists were planning protests during Cuomo's State-of-the-State address in January. Instead, there will be victory rally today outside his Manhattan office.
"We applaud Governor Cuomo for being a true leader. New York State can show the nation what is possible. Together we can lead a just transition to an economy based on efficiency and clean, renewable energy," exclaims Catskill Mountainkeeper.
There are still plenty of fights ahead, however, over pipelines, storage facilities, and oil-by-rail networks that threaten vital waterways like the Hudson River. In the Finger Lakes region, there are ongoing protests against a proposed natural gas storage facility on the shore of Seneca Lake. The company's stated goal is to transform the region into a "gas storage and transportation hub" for the Northeast.
NY State is leading on renewable energy and efficiency and established one of the nation's first Green Banks.
Read our article, NY State Leads: Radical Changes Toward Distributed Energy.
(Visited 3,870 times, 40 visits today)