At the Climate Summit, entering its second (and last) week in Peru, Initiative 20×20 was announced – an effort to restore 50 million acres of land in Latin America and the Caribbean by 2020.
It's part of the Bonn Challenge, a global commitment to restore 370 million acres of land around the world by 2020, led by the World Resources Institute (WRI).
What's different about this conservation effort is that the focus is on active farmland and on attracting private financing rather than relying on governments.
The idea is to reduce agricultural greenhouse gas emissions by improving the soil on degraded farmland, making existing farms more productive and taking the pressure off to clear more forests and grasslands for food production.
Since 2000, some 89 million acres of forest and grasslands have been cleared for agriculture, accounting for almost half the greenhouse gas emissions in the region. Unsustainable agriculture is responsible for about 500 million acres of degraded land in Latin America, says WRI.
Degraded farmland will be restored to mosaic of trees, crops, and livestock. Farms planted with trees provide shelter for animals, increase the ability for soil to hold water and nutrients, and absorb carbon. And trees greatly improve pastureland (as much as six-fold), meaning less acreage can sustain more livestock.
Over the long term, trees can be sustainably harvested, providing another income source. Agricultural expansion will be directed to degraded lands, allowing forests to return.
Here's an example from Colombia: After replacing 220 acres of open pastureland with trees, shrubs and bushy vegetation, the plants provide 90 head of cattle with vertical layers to graze on at Carlos Hernando Molina's ranch – providing twice the milk and meat production per acre on much less land.
Priorities for restoration worldwide: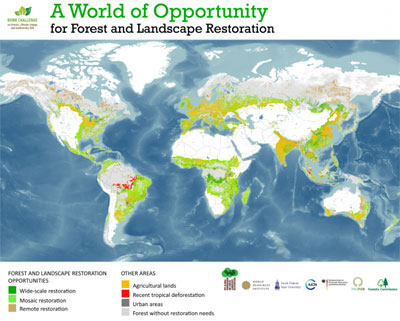 The program is starting in seven countries – Mexico, Guatemala, Costa Rica, Colombia, Ecuador, Chile and Peru – with $365 million in private investment from development banks, philanthropies and individuals.
Funds are forming to attract private capital for these purposes, such as Althelia Climate Fund and Moringa Fund. Moringa, for example, focuses on crops like coffee, cocoa and tea which are grown in the shade of trees, orchards – where fruit and nut trees are combined with crops, and Sylvopastoralism, which combines livestock with trees.
The annual net benefit to national and local economies of restoring 370 million acres is around $85 billion a year, while reducing the current emissions gap by 11-17%, according to the International Union for Conservation of Nature.
Read our article, Carbon Farming Gaining Traction In US.
Read, In the Pastures of Colombia, Cows, Crops and Timber Coexist:
(Visited 5,260 times, 73 visits today)