Dunkin' Donuts doesn't usually come to mind when we think of green companies, so it's nice to see them getting on board with green building.
After getting two stores LEED-certified since 2008, they used the experience to create their own certification program for franchisees. Dunkin is rolling out the program for new construction, with a goal of building 100 certified restaurants by the end of 2016. And they also want to extend the program to retrofits at some point.
DD Green, as it's called, allows for the integration of "efficiency, sustainability, and health in the restaurant development," says John Herth, Senior Director for Global Design and Construction Services at Dunkin' Brands.
Those five stages: Site Development; Store Efficiency; Healthy Indoors; Sustainable Operations; and Innovation and Community.
Franchisees can either meet minimum requirements or do more to get the "DD Green Elite" plaque on their store: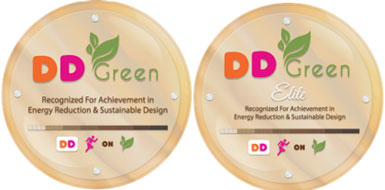 "My passion for creating the DD Green program came from my love for sustainability. I realize how important it is and believe that as business professionals, we owe it to our planet to do everything possible to improve it. My years in the food industry, background as a licensed architect and as a LEED accredited professional, gave me the tools and know-how to put a unique program like this together," says John Herth, Senior Director of Global Design and Construction Services for Dunkin' Donuts.
As architects and construction managers work through the phases, they will implement the practices we expect of any green building – from recycling construction waste to installing LED lighting and efficient HVAC and water-saving plumbing fixtures, to low VOC paints for indoor air quality. Employees will be trained to operate the building efficiently.
Many of the same elements required by LEED have been incorporated, and "We continue to support any franchisee that wants to pursue LEED certification," says Herth. But DD Green is customized for the design specifications and energy use of a new Dunkin' Donuts restaurant, he says.
UL Environment will audit the results to make sure they achieve their goals. Assuming proper implementation, UL applauds Dunkin' for the program and its commitment to sustainability.
The first DD Green-certified restaurant recently opened in Long Beach, California.
As for those ubiquitous styrofoam cups, Dunkin has been aggressively" exploring alternatives since 2011. At the time, only 15% of Dunkin' Brands' packaging was sourced from recycled materials, perhaps that's changed since then. They do, however, buy a fair amount of Fair Trade coffee and in 2012, committed to begin sourcing cage-free eggs and gestation-crate free pork.
(Visited 4,813 times, 29 visits today)