While most of the focus on tar sand expansion has been on the Keystone pipeline in the US, Canadians are rising up against the two major pipelines planned in their own country.
Activists are amazed at the hundreds of thousands of dollars in donations pouring in to stop them.
After author Gabriel Nadeau-Dubois donated $25,000 to a grassroots coalition fighting Energy East – the cross-Canada pipeline – he challenged people to double that. Instead, $326,000 quickly flowed in and it keeps coming to support the anti-pipeline coalition Coule Pas Chez Nous (Don't Let it Flow in Our Backyard).
In October, 2000 people marched in Cacouna, one of the ports for Energy East: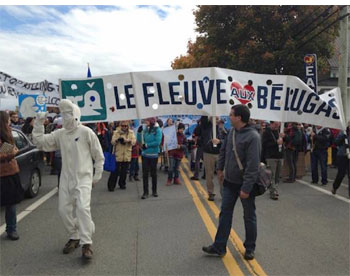 credit: Geoffrey Vendeville / The Gazette
A third more oil than Keystone – 1.1 million barrels a day would arrive each day from Alberta, carried in an under-used natural gas pipeline.
Besides the climate-related dangers of expanding tar sands extraction and the inevitable leaks and ruptures of the pipeline, the port is in Beluga whale calving grounds. "It's possibly the worst place we could have chosen to build an oil port in the St-Lawrence River because of the presence of the belugas and its especially rich biodiversity," ecologist Robert Michaud told Montreal Gazette.
Beluga populations are down 12% over the past decade and now have a new threat – exploratory drilling with sonar. TransCanada has already been warned by the Environment Ministry that it's making too much noise.
Northern Gateway in the West
On the west coast, six First Nations tribes are going to court to stop the Northern Gateway pipeline. There, an organization called Pull Together has quickly raised $250,000 and expects $50,000 more by the end of the year.
"It's incredible that Pull Together began in the summer raising $2,000, and now we have raised a hundred times that!" says Caitlyn Vernon, campaign director with Sierra Club British Columbia. Not only are they fundraising online and through ticket sales for concerts, about 40 businesses are participating, from Salt Spring Coffee's "Lattes for the Coast" to 25 yoga studios' "Stretch Across BC."
Opposition to the pipelines extends to local governments. British Columbia, Ontario and Quebec have all issued conditions that must be met to get their approval.
Petroleum Industry PR Campaign
Clearly, pipeline companies are getting a bit antsy about Canadians' reactions. Leaked documents obtained by Greenpeace show TransCanada is paying Edelman – the world's largest public relations firm – to develop an aggressive campaign that gains public support for Energy East. The idea is to create fake grassroots groups that show support for it, getting it into the news, while finding ways to discredit pipeline opponents.
In the US, ALEC has been helping the American Petroleum Institute and other oil industry groups sway public opinion. ALEC's state legislator members have been provided with language for op-eds that favor Keystone, in addition to model legislation that pushes it forward, and have been asked to "talk it up," according to Center for Media and Democracy (CMD).
There's even a book out, Keystone & Beyond: Tar Sands & the National Interest in the Era of Climate Change – read it here:
Website:
[sorry this link is no longer available]
(Visited 4,351 times, 7 visits today)