In great news for the US wind industry, the latest data shows it leads the world on wind energy production.
Even though China has a third more wind turbines installed (just in the last few years!), US wind farms are pumping out 20% more electricity, says the American Wind Energy Association (AWEA), accounting for over 5% of US electricity this year for the first time.
Electricity from wind now powers 15.5 million US homes. As of September, 46,600 wind turbines generate 62.3 gigawatts (GW) of energy, and there's another 13.6 GW under construction across 105 projects in 21 states, according to the Department of Energy 2013 Wind Technologies Market Report. Among them is the world's biggest – the 3 GW Chokecherry wind farm in Wyoming, which will power a million homes.
The wind tax credit must be renewed to continue this growth!
Why is the US #1?
Besides having outstanding wind resources – the Midwest has been called the Saudi Arabia of wind – supportive policies on the state and federal levels have led to impressive growth.
With this growth has come economies of scale, bringing costs and electricity prices down. Turbines have become much more efficient and productive, with a single turbine now powering 650 homes. Siting decisions have evolved to mitigate wildlife impacts, while increasing output.
Importantly, projects must have access to transmission lines to get financing, making sure their electricity gets to market. Too many wind installations in China are sitting idle waiting for transmission infrastructure.
"These and other factors have meant that over $120 billion worth of U.S. wind projects installed since the year 2000 are of high overall quality and reliability, ready to operate on average more than 95% of the time the wind is strong enough to generate power, says James Walker in AWEA's blog.
Where the wind farms are: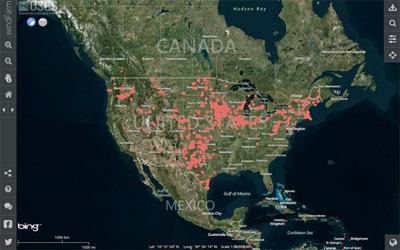 Understanding the Production Tax Credit
It's easy to see how state-based Renewable Portfolio Standards are perhaps the most crucial policy supporting the industry. They require utilities to source a portion of electricity from renewable energy, guaranteeing a market for wind energy.
But it's the federal production tax credit that's been effective at optimizing production of electricity because credits are awarded only for long term performance.
James Walker explains how it works:
"Another key factor in the success of the US wind industry is that government incentives and private sector financing methods reward long term production, not initial capital investment.
The main government support mechanism, the federal renewable energy Production Tax Credit (PTC), is only earned for kilowatt hours actually produced and delivered during a 10 year period.
Back in the 1980s, developers could make a profit just by completing projects, even if they never operated up to par. These incentives ended and were replaced in 1992 by the PTC, sponsored by Senator Grassley (R-IA) and extended on a bipartisan basis for over two decades. This performance-based policy has led to dramatic increases in electricity output from individual turbines – which today have a nameplate capacity 8 times larger than a typical one in 1990, generating 17 times more electricity."
While the PTC should be renewed for 5-10 years to provide the long-term certainty the industry needs, it is in danger again of being dropped altogether, but fossil fuel subsidies remain intact. When the PTC expired at the end of 2012, new projects dropped an astounding 92%, with ripple effects across the supply chain.
Read our article, Conservatives Take Aim at Wind Production Tax Credit, Once Again.
Key findings from the Department of Energy's "2013 Wind Technologies Market Report":
• Wind has grown to an important energy source in the US. Although new projects declined when the PTC expired to just 1.1 GW in 2013, it has comprised 33% of all new electricity capacity since 2007, and supplies over 12% of electricity in 9 states, and over 25% in two states.
• Bigger Turbines boosts wind project performance. Since 1998-99, the average wind turbine output has risen 162% because turbines are 45% taller and blades are 103% wider. This makes it possible for developers to economically build projects in areas with lower wind speeds, and driving greater energy production for projects overall.
• Prices for wind turbines are down 20-40% since 2008, also pushing project costs down. Installed costs were down more than $600 per kilowatt last year.
• Combined, these factors are lowing wind energy prices, falling to $25 per megawatt-hour last year from $70 in 2009. Contracts for wind energy now compete very favorably with coal and natural gas.
• Projections are for solid growth in 2014-2015, with uncertain prospects in 2016 and beyond. Renewal of the PTC for 2013, re-started the US wind market, which will reach into 2014 and 2015. But "Projections for 2016 and beyond are much less certain. Despite the attractive price of wind energy, federal policy uncertainty – in concert with continued low natural gas prices and modest electricity demand growth – may put a damper on medium-term market growth," explains Mark Bolinger, Research Scientist at Berkeley National Lab.
Read the report:
Website:
[sorry this link is no longer available]
(Visited 7,334 times, 9 visits today)