Few companies are moving on renewable energy like Ikea, which just bought its second wind farm in the US.
Apex Clean Energy is building the 165 megawatt (MW) wind farm in southern Texas, and also a 98 MW project in Illinois Ikea bought earlier this year. When both come online late next year, they will produce the energy needed for 90,000 homes.
The smaller wind farm will produce 165% of the electricity consumed by all of Ikea US – 38 stores, five distribution centers, two service centers and one factory.
That's in addition to 38 MW of solar on 90% of Ikea's buildings in the US – 165,000 solar panels across 20 states – and geothermal at two stores in Colorado and Kansas.
Ikea is also selling solar systems in Britain: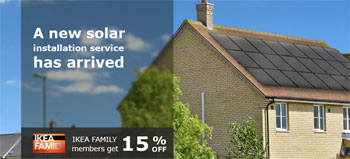 Ikea's goal is to run on 100% renewable energy by 2020, up from 37% today worldwide. It's spending $1.9 billion through 2015 to get there, and has wind and solar projects in nine countries.
"Ikea believes that the climate challenge requires bold commitment and action," says Rob Olson, Acting President of Ikea US. "We invest in renewable energy to become more sustainable as a business and also because it makes good business sense."
The company ranks #5 among all US corporations for installed solar, after Walmart, Costco, Kohl's and Apple.
At the UN Climate Summit this September, A dozen corporations got the ball rolling on REE100, an effort to convince 100 of the world's largest businesses to run completely on renewable energy by 2020. Ikea is a founding sponsor.
Read our article, The Latest Trend in Renewable Energy: Buy an Entire Wind or Solar Plant.
(Visited 3,254 times, 28 visits today)