Corporations have won again when it comes to getting labels on foods that contain GMOs, but they are having a harder time defeating counties that want to ban growing the crops there.
That's what we really want, isn't it? The end-goal is to stop planting the destructive crops and associated herbicides, which is killing off bees, butterflies and other pollinators, in addition to poisoning humans.
Colorado's labeling referendum failed by a two-thirds margin and by a close 51% to 49% in Oregon … "a substantial feat considering the fact that major corporations spent some $20 million trying to defeat this grassroots effort," says Food & Water Watch. Proponents in Oregon raised $7 million, a huge amount for the tiny non-profits that led the charge.
A month ago, polling showed Oregon voters favored GMO labels by 32%.
As you have probably heard, Oregon did however, legalize marijuana, 55.3% to 44.7%, and so did Alaska!
Why anyone would vote against putting a simple label on foods, I can't imagine, but clearly lots of money can persuade people it's not in their best interest. Led by Monsanto, DuPont, Dow and Big Food (Pepsi, Coke, Kraft, General Mills et al), industry interests dumped $12 million in Colorado to dissuade voters, crushing the $700,000 raised by proponents.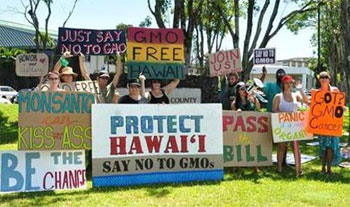 It was the most expensive campaign in Oregon history, and also in Maui County, Hawaii, where industry's $8 million FAILED to prevent passage.
Known as "GMO Ground Zero," Maui's temporary ban on GMO crops squeaked by with 1000 votes. The ban is in place while an environmental and public health study is completed and shows no negative impacts. That's doubtful because 100% of water samples on the island are tainted with pesticides, according to Hawaii's Department of Health. No doubt an industry-sponsored lawsuit will follow.
While a ban on GMO crops has managed to stand on the island of Hawaii, it was diluted and then defeated in court by an industry lawsuit in Kauai in August. The law didn't even ban GMO crops, it simply required buffer zones and notification when spraying would take place.
Also in this election, voters banned GMO cultivation in Humboldt County, California, joining bordering Mendocino and Trinity counties, and Santa Cruz, Trinity, Marin counties. Two counties in Oregon have banned it, along with San Juan in Washington state and the state of Vermont.
Congratulations to Mendocino, which also banned fracking in this election!
In a related vote, Ogunquit, Maine banned the use of synthetic pesticides and fertilizers on private property.
Read our article, Global Coalition Forms to Take On GMO Agriculture.
(Visited 4,917 times, 10 visits today)