Yesterday, we reported that Toyota will start sales of the first mass produced fuel cell car next month, and today we learned that China is about to begin mass production of an electric airplane.
If RX1E succeeds commercially, China will be the technology leader in the field. The first manned electric flight was back in 1973, but until now these aircraft haven't made it past the demonstration phase.
The two-seater, light-duty aircraft runs on electric motors and can be powered by fuel-cells, solar, ultracapacitors, power beaming or batteries. It can fly for 90 minutes on fully charged batteries, and charging the 10 kilowatt-hour batteries takes only 40 minutes at a cost of $0.80.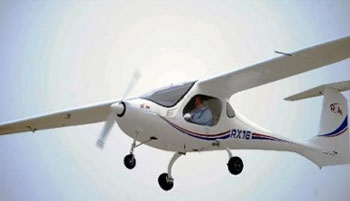 Airplanes of this size are commonly used by police, for flight training, mapping surveys, and just for fun by flying aficionados.
Liaoning General Aviation Academy, which designed and aircraft, hopes to sell 100 within three years, and plans to build a dedicated manufacturing plant that can make 100 a year in Shenyang. It will sell for $163,000, lithium batteries included.
Electric airplanes have lots of advantages – easy maintenance, low operating costs, high safety levels and obvious environmental attributes.
In September, the first emissions reduction program in the US aviation industry took off, starting with airports.
Read our article, Buzzword is Electric For Future of Aviation.
(Visited 9,632 times, 11 visits today)