Several documentaries are out that many of you will be interested in – one on urban farming, another on hydro power, and a third on water.
If you're interested in the growth of urban farming, you'll want to see the PBS documentary, Growing Cities, being aired this fall and next spring. It profiles people who are challenging the way we grow and distribute food in the US – one vacant city lot, rooftop garden, and backyard chicken co-op at a time.
Compiled from 140 hours of footage at more than 80 urban farms, it's also available on DVD and iTunes.
Watch the trailer and find out when it will be shown on your local PBS station.
A documentary on big Hydroelectric dams can be watched online:
DAMOCRACY: Debunking the Myth of Dams as 'Clean' Energy
In 34 minutes, you'll learn why big hydro is a really bad idea and why it should not be counted as a renewable energy source or a solution to climate change.
In tropical areas, research confirms that dams contribute to climate change, they do not reduce it by providing clean energy. That's because drowning forests produces massive amounts of methane. In fact, it was researchers at Brazil's National Institute for Space Research that reported in 2007 that the world's largest dams emit 4% of this greenhouse gas.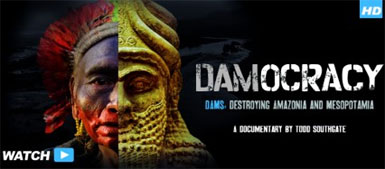 Damocracy records the priceless cultural and natural heritage the world is losing by building large-scale dams in the heart of the Amazon (Belo Monte) and in Turkey (Ilisu dam). It tells the story of resistance by the thousands of people who will be displaced, and calls on people around the world to support their struggles.
Over 50,000 dams have been built on more than half of the world's major rivers in the last century, causing irreversible damage to nature and cultural heritage, while displacing millions of people. In Europe, companies can't build them because of stricter environmental and human rights standards, but the government still promotes large-scale dams as a clean energy solution for developing countries.
Read our article, Mega-Dams Don't Even Make Economic Sense, Say Researchers.

Watermark is based on a book that came out last year and is about the human relationship with water. You'll see massive floating abalone farms off China's Fujian coast and construction of the Xiluodu dam – the largest in the world – and the Colorado River, which no longer reaches the ocean. Shot in stunning ultra high-definition video, it's an immersive experience into water. It also shows how quickly a landscape can be restored by allowing historic water runs to return.
We know that fracking pollutes water, but we rarely hear about coal power plants, which consume 8% of the world's fresh water, and drains acidic water from old mines, polluting water supplies for decades. Incredibly, in this time of climate change, 1200 new coal plants are proposed around the world in places that already suffer from water scarcity.
(Visited 6,379 times, 16 visits today)