29 multinationals are coming together in the launch of a website that aims to "make sustainable living the new normal."
The name of the website is Collectively, "a new type of platform showcasing the people, places and cutting edge ideas that are creating the change we need."
The companies behind it include: Unilever, BT Group, Marks & Spencer, Kingfisher, Philips, Coca-Cola, PepsiCo, Microsoft, Google, Facebook, Twitter, Nike, Carlsberg, Diageo, General Mills, Johnson & Johnson, McDonalds, Nestlé and Dow Chemical.
If you wonder why we question their motives for such a move, it's because many of these corporations are the cause of the problems, whether it's factory-farmed beef from McDonald's, antipathy toward GMO labels from General Mills, or Dow's new Agent Orange GMO.
Let's talk after you are actually sustainable!
McDonald's finally pulled the plug on Styrofoam last year: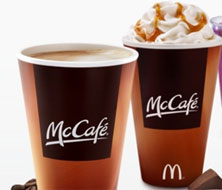 Sustainability leaders on the list deserve credit too: Unilever, BT Group, Marks & Spencer, Kingfisher, Philips, Microsoft, Google and Nike.
An "independent editorial team" will update the site daily with stories that cover everything from fashion to food and from architecture to technology. The idea is to excite visitors on the "potential to create positive change."
"The challenge is both an environmental and a social one – the world's systems are approaching capacity and there are a number of very urgent global and local issues that need to be addressed. There's been a lot of progress but little progress when it comes to engaging the majority and making them feel social living is important," Will Gardner, who heads Collectively and is Unilever's VP of global marketing projects, told Marketing Magazine.
Some of the stories currently online:
These Inmates are Running Sustainable Businesses
Soon, Our iPhones, Droids, And Cars Will Charge to 70% in Just Two Minutes
Getting Rid Of Your Car Will Make You More Creative, Productive And Happier
Let's hope the effort does some good!
Check out the website:
Website:
[sorry this link is no longer available]
(Visited 3,688 times, 1 visits today)