When we last reported on Georgia Power's move into renewable energy, they had decided to start by purchasing 210 megawatts (MW) by the end of this year.
But they have already doubled that to 495 MW of utility-scale solar, signing power purchase agreements for the output of 10 regional solar plants. 99 MW of that comes from two projects owned by parent company, Southern Power.
And they are getting solar at new, cheaper prices – averaging less than 6.5 cents per kilowatt-hour, 2 cents less than in 2103. Bigger projects at 30-100 MW may come in with even lower prices. They all come online over the next couple of years.
In response to its competitive RFP, Georgia Power says it received proposals for over 5.1 gigawatts of solar across 142 projects and 56 developers. It's also importing 654 MW of wind from Oklahoma.
Georgia Power is also developing its own solar projects at three Army bases in the state. At 30 MW each, the "3X30" project will allow the Army to use solar for 18% of its electricity in Georgia.
Georgia Power builds and owns the systems on Army land, and the Army buys the power under long term contracts.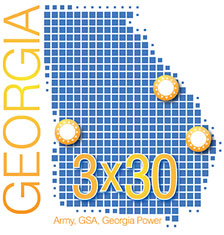 All told, after lagging for many years, Georgia Power expects to contract for 900 MW of solar by 2016, bringing the state into the top 5 in the US!
Georgia Power's parent, Southern Co., is the second largest US utility (by market cap) and is best known for its dirty, outdated coal plants. When it's not fighting pollution and greenhouse gas standards it's now buying solar plants in a joint venture with Ted Turner.
Read our article, Georgia Finally Getting Some Solar Energy.
Learn more about Georgia Power's solar program:
Website:
[sorry this link is no longer available]
(Visited 4,188 times, 5 visits today)