One thing American voters seem to agree on is that they love parks and land/water preservation, and they're expected to show it by approving $15.7 billion in the mid-term elections.
That's the most money proposed during elections for 25 years, according to the Trust for Public Land, and reported by Associated Press.
Voters almost always approve these measures.
The biggest referendums are in Florida, California and New Jersey – densely populated states in danger of losing key natural areas. "People know if they don't step up and protect it, it will be gone," Will Rogers, CEO of Trust for Public Land told Associated Press. It's also on the ballot in Utah, New Mexico, North Dakota and Oregon, and in local elections.
11 states have amended their constitutions to set aside money that protects land and water, because if it's left to legislators it too often gets siphoned off to pay for the general budget.
$10-18
Billion in Florida
The biggest pot of money is in Florida, which will become the 12th state to amend the constitution to "acquire, restore, improve, and manage conservation lands including wetlands and forests; fish and wildlife habitat; lands protecting water resources and drinking water sources, including the Everglades, and the water quality of rivers, lakes, and streams; beaches and shores; outdoor recreational lands; working farms and ranches; and historic or geologic sites."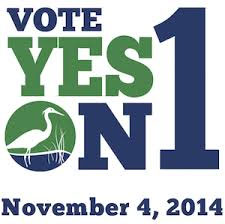 With the state's population surging, this is the last change to ensure protection for Florida's waters and natural areas.
More than a million voters signed petitions to get Amendment 1 – the Water and Land Conservation Amendment – on the ballot. It sets aside 33% of real estate transaction fees for environmental protection for 20 years.
Since 2009, Florida Forever – the main source for conservation funds – has been cut more than 95% by legislators.
Just about every interest group in the state is on board, including NAACP, the hospitality industry and even the agricultural industry. Still, business groups like Florida Chamber of Commerce are against it because it could tie the hands of politicians that want to use the money elsewhere.
$10-$18 billion would be spent to protect 2 million acres, less than 1% of the state budget.
In New Jersey, part of the corporate tax would pay for $2.1 billion in open space and farmland.
In California, the controversial Proposition 1 would approve $7.5 billion to increase water supplies by building more dams that feed central valley farmers. Only $1.5 billion of that would protect land and watersheds.
(Visited 3,909 times, 18 visits today)