After keeping its technology a secret for 10 years, Alevo Energy is suddenly in the news, opening an enormous factory in North Carolina to provide grid-scale energy storage products.
Earlier this year, they bought a factory previously owned by Philip Morris. At 3.5 million square feet, they expect to employ 2500 people within three years.
Alevo builds and sells "GridBanks" – shipping containers filled with thousands of lithium batteries – that are more durable and safe than anything on the market, they say, and come with a 20-year guaranty. They draw excess energy from power plants, store it and release it as needed to provide grid-scale energy storage that replaces fossil fuel plants.
Combined with "Alevo Analytics" – its advanced data platform – GridBanks plans to offer "energy storage as a service," from installation to operation at a price 70-90% lower than competitors. Using "big data," the system absorbs excess electricity produced by power plants, provides energy management and frequency regulation services, and integrates intermittent renewables into the grid.
"What this means in practice is lower costs to the utilities, smaller bills for the consumer and a reduction in greenhouse gases per megawatt that will help cost-effective coal-fired generation achieve EPA Clean Power limits," says CEO Jostein Eikeland, who has raised $1 billion from investors.
Each GridBank delivers 2 megawatts (MW) of power and can be charged 40,000 times – four times more than other batteries on the market. The "lithium iron phosphate Alevo batteries" have an inorganic electrolyte that the company calls its "secret sauce" – it extends longevity and reduces the risk of burning. Experts say if they perform as promised it will be a technological leap forward on energy storage.
With 200 MW of orders in hand (enough to power 100,000 homes), the first year of production is already sold out, and plans are for several gigawatts by 2016.
The long term goal is to be a vertically integrated manufacturer, from materials to installation.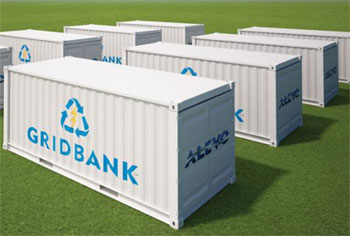 Switzerland-based Alevo says it is skipping the typical pilot phase and moving straight to mass production. What's holding back grid-level energy storage is the high price of batteries – if they mass manufacture from the start they can provide them at a competitive cost.
They have been testing their data analytics approach with utilities, however, for several years.
About $100 million has been invested in the software.
The company says China-ZK International Energy Investment Company will promote, commercialize and partially fund the technology in China and it also has a partner in Turkey.
Alevo has lots of competition from large, established companies getting into the energy storage business, like AES, NRG, Duke Energy, Samsung, GE, Saft, Green Charge Networks and even Tesla.
Grid-scale energy storage is projected to take off over the next few years, from $200 million in 2012 to $19 billion in 2017, according to market research firm IHS CERA. California now requires utilities to incorporate energy storage into their operations and NY is moving in that direction.
According to the Department Energy, four challenges need to be overcome for energy storage to become widespread: cost-effective technologies (including manufacturing and grid integration); validated reliability and safety; equitable regulations; and industry acceptance.
Read our article, Energy Storage: Important New Industry.
(Visited 6,214 times, 5 visits today)