A $1 million cash prize is on the table for a team that can make hydrogen fueling possible for the average person – the last piece in the puzzle for commercialization of hydrogen-fueled cars.
Prices for fuel cells have been cut in half, says the Department of Energy (DOE), and now we need an affordable way for people to fill-up their cars … right at home.
DOE's two-year H2 Refuel H-Prize challenges America's engineers and entrepreneurs to create this infrastructure. Successful entries will install and test systems that generate hydrogen from resources available at most homes, like electricity or natural gas.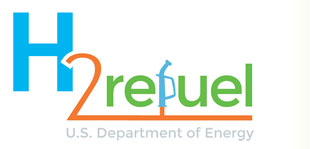 "Hydrogen infrastructure remains the most critical barrier to widespread adoption of fuel cell electric vehicles," says DOE. The agency is also working with industry to encourage early adopters of fuel cell technology that can lead to cost reductions and economies of scale, such as combined heat and power, backup power and fuel cell forklifts.
Fuel cells have come a long way since 2006 thanks to research and development efforts: they require 80% less expensive platinum and last twice as long at half the price.
In the first year of the competition, teams will be tasked with finding partners, design a system and a site to install it. Finalists will then advance to the testing phase, with seven months to build, install, and prepare their systems for testing.
Congress enacted the H-Prize to advance commercialization of hydrogen energy as part of the Energy Independence and Security Act of 2007.
Earlier this year, DOE launched H2FIRST to develop the design for hydrogen fueling stations. California is installing them and automakers are coming out with the first fuel cell cars. The technology is viewed as essential for the US to achieve 100% renewable energy by 2050 … which CAN be done.
Read our article, Get Ready For Hydrogen Fuel Cell Cars, Coming Next Year.
Register for the competition here:
Website:
[sorry this link is no longer available]
(Visited 5,989 times, 5 visits today)