by Rona Fried
New York City is embarking on an innovative project that we want to see a lot more of – supplying customers with renewable natural gas, not the fracked kind.
The demonstration project will show how every city can turn their wastewater treatment plant into a revenue-generator by bringing heat to homes and businesses made from locally-made natural gas, with local organic waste as the feedstock.
Here's how it works:
Waste Management collects food scraps from NYC school breakfast and lunch programs – 1.5 tons a week – and instead of sending it to landfills, it delivers it to a Brooklyn processing plant. There, magnets remove any non-food items and macerators grind it into a slurry.
Then trucks haul it to the city's largest wastewater treatment plant – Newtown Creek in Brooklyn. The slurry is combined with sludge produced by the treatment process, resulting in biogas.

To form biogas, the combined sludge is put into a biodigester, where it's heated to 95 degrees F in an oxygen-free environment for 15-20 days.

National Grid buys the biogas and after using a refrigeration process that removes carbon dioxide, it sends the remaining high-quality natural gas to customers via a pipeline that's already connected to the wastewater plant.
Biogas is delivered as fuel to 5200 city homes!
"By deploying a robust organics program, the Department of Sanitation is creating an opportunity to convert organic waste, that NYC used to spend millions of dollars to send to out of state landfills, into clean renewable energy right here in New York City," says John Doherty, Commissioner of Sanitation.
No longer do polluting trucks have to carry that cargo to landfills. And the city begins supplying natural gas sans greenhouse gas emissions.
And the benefits don't stop there! 40% of the biogas heats and cools the wastewater treatment plant, eliminating yet another source of costs and emissions. Like all such plants, until now, Newtown Creek has been flaring the methane into the air. Now, it will sell it as biogas instead.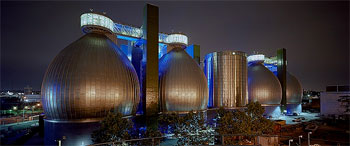 National Grid is investing $7 billion to design, build and operate the biogas system, and once it recoups those costs, it will split the natural gas revenue with the Department of Environmental Protection (which runs the wastewater plant). Construction begins this year and natural gas starts flowing in 2015.
There are 14 wastewater treatment plants in NYC where 1 billion gallons of wastewater are treated every day. Almost all of them are now powered by the biogas they generate.
National Grid says biogas can supply 25% of natural gas for its customers in Massachusetts, New York and Rhode Island, while creating 9000 jobs.
"With the right policies renewable gas could meet the natural gas demands of half of all American homes," according to a study commissioned by the American Gas Foundation.
Read our article, Too Many Biogas Plants To Count, Growing Fast in US.
And learn about USDA's Biogas Opportunities Roadmap:
(Visited 4,768 times, 14 visits today)