New York City is the place to be in late September where 100,000 people are expected to converge to drive action on climate change. We'll be there.
Literally hundreds of events are taking place during Climate Week NYC, most notably the Peoples' Climate March and UN Climate Summit. Some 2000 marches are also planned in 150 countries in cities like London, Paris, Melbourne, Berlin, New Delhi Kathmandu, Rio, Sao Paulo, Jakarta, Dublin, Manila, Seoul, Mumbai and Istanbul.
September 21: People's Climate March – organizers are planning for the biggest rally for climate action yet, bringing diverse interests as labor (45 unions), environment, fisherman, faith and justice groups together. Over 1100 organizations have endorsed the march and tens of thousands of people have registered at the website.
Dedicated trains will carry people to NYC from San Francisco and Washington DC and more than 300 buses will bring people from multiple cities across the US. Find transportation options.
At 9AM, people begin assembling along Central Park West and after 10:30AM press conference, the march departs from Columbus Circle (59th St) at 11:30AM. It travels downtown and then to the west side of Manhattan where there will be a "climate block party" with stages, booths, and information and organizing sessions.
Which group would you like to march with? Here's a list and where to find them.
"We think that organizing, mobilizing and building social movements are ultimately what changes the course of history," say the organizers.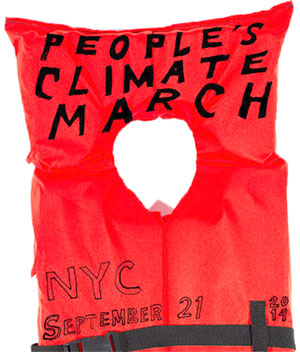 September 23: UN Climate Summit – the goal is to build momentum for what could be a final push for an international climate treaty next December in Paris. 125 heads of state are expected including President Obama, but many countries are sending a Vice Premier (China), Environmental Minister (India, Canada) or Foreign Ministers (Australia, Russia, Pakistan and Ukraine).
UN Secretary-General Ban Ki-moon asked world leaders, from government, finance, business, and civil society to declare bold announcements and actions that cut emissions, build resilience and mobilize political will to coalesce around a meaningful legal agreement in 2015.
The Climate Summit will be broadcast online.
In the morning, you'll be able to hear those announcements and in the afternoon there will be topical discussions on most every pressing issue related to climate change.
You can also follow the action on #climate2014, #ClimateMarch, and #PeoplesClimate on Twitter.
Highlights of the week include the Religions for the Earth conference and the NYC Climate Convergence and People's Climate Justice Summit, both intended to raise the bar on climate action beyond the "corporate-dominated" UN Summit. Women's Earth and Climate Action Network is hosting events and the annual meeting of the Clinton Global Initiative is taking place, focused on the effectiveness of various climate strategies.
The Carbon Tracker Initiative

Carbon Forum North America
Documentaries that will be premiered: Disruption (also watch it online) and Climate Heroes: Stories of Change.
Let the organizers know you are attending the march or learn more about all the events that week:
Website:
[sorry this link is no longer available]
(Visited 4,883 times, 1 visits today)