Under Governor Patrick's leadership, Massachusetts has made great gains on creating a clean energy industry, as is evidenced in the 2014 Massachusetts Clean Energy Industry Report.
The state is now home to almost 6000 clean energy companies that employ 88,372 people, adding 28,000 jobs in the past three years. By the end of 2015, 100,000 people will have clean energy jobs in Massachusetts.
At $10 billion, the industry contributes 2.5% of Massachusetts' Gross State Product and is growing eight times faster than others in the state. As a comparison, the fracking boom in North Dakota has created about 65,000 jobs.
Solar in Massachusetts!: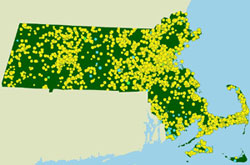 "High fossil fuel energy costs, strong and progressive policy support, continued price declines of clean energy goods and services and a robust state economy with relatively high per-capita incomes make the Commonwealth one of the nation's leading markets for renewable energy and energy efficiency," says the report.
Ranked as the most energy efficient state for the third consecutive year (and Boston, the most efficient city), state policies have created strong employment opportunities in retrofitting buildings. 65,000 people work for more than 4,000 firms, growing 36% since 2013.
Half of the 21,000 renewable energy jobs are in solar, followed by wind (3000), hydroelectricity (2000) and bioenergy (1100).
Largest Solar System in New England
The news comes as the largest solar project in New England starts producing energy, enough for 45% of Cape Cod and Martha's Vineyard's load.
Dispersed on nine closed landfills across seven towns, Cape & Vineyard Solar One produce 22 megawatts and are owned by Clean Focus.
Massachusetts has a goal of 1.6 gigawatts of solar by 2020.
We can't say enough positive things about Governor Patrick, other than we're sorry he's leaving. He's responsible for the state's Global Warming Solutions Act, meeting and then raising the Renewable Portfolio Standard, the great focus on energy efficiency, doubling the offshore wind leasing area and ending the use of coal. The latest action is a ban on sending food waste to landfills, processing it as biogas instead.
Read the 2014 Massachusetts Clean Energy Industry Report:
(Visited 8,703 times, 5 visits today)