A major announcement at the UN Climate Summit today came from the world's biggest investors.
Representing $2 trillion in managed assets, some of the world's biggest investors issued a statement that commits them to growing a global Green Bond market that finances climate change solutions.
And that's after calling for a price on carbon last week.
"We undertake to work, through bodies like the Climate Bonds Initiative with governments, development institutions, industry, cities, commercial banks, NGOs and others, to grow a large and robust market that makes a real contribution to addressing climate change."
"We, as investors and fiduciaries, understand that we have a responsibility to address threats to the future performance of our investments from climate change as well as a responsibility
to secure our clients' savings through sustainable and responsible
investments. We believe green bonds can be part of our strategy to accomplish both of these aims."
They point to the many areas in dire need of investment, such as low carbon energy, water infrastructure and climate-proofing of existing infrastructure. The scale of
the task requires mobilizing trillions of dollars of private sector capital as
well as public expenditure," says Sean Kidney, CEO of Climate Bonds.
"Gigantic investments are needed. These amounts are investments yielding a
return, they are not costs. To provide the necessary capital, we need to
activate the world's large debt capital markets. Green bonds and climate bonds
are a means to do so," says Erik Jan van Bergen, CIO of ACTIAM (Dutch institutional investor), who announced they would double climate
bond holdings to EUR 1 billion by the end of 2015.

They are calling for these facilitating measures:
governments to develop projects that can be financed through bonds
bond issuers to ensure transparency around how the proceeds will be used and what their impact will be
experts to develop clear standards for bonds so they are directed to the most critical uses.
They also announced the launch of the "Portfolio Decarbonization Coalition," that's committed to decarbonizing $100 billion in investments by the end of 2015 and to measure and disclose the carbon footprint of $500 billion in investments. Swedish pension fund AP4 says it will fully decarbonize by 2020.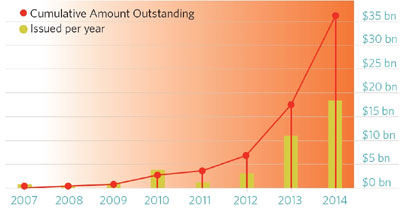 Examples of Announcements
Barclays Bank plans to increase green bond holdings from the current $700 million to $1.6 billion over the next year, by far the largest such investment by a bank.

California State Treasury is not only investing in green bonds, purchasing $1.1 billion so far, it is issuing its first green bond for $200 million.
European Investment Bank is the world's largest issuer of green bonds, with $1 billion placed just this month and $4.37 billion this year.

Zurich Insurance Group, which manages $214 billion in assets, will invest $2 billion in green bonds.
Overseas Private Investor Corporation (OPIC) issued its first "Green Guaranties," US government-guaranteed certificates of participation that adhere to the Green Bond Principles. Proceeds of $47 million will finance construction of the largest solar PV project in Latin America, Luz del Norte in Chile.
Interest in green bonds has skyrocketed this year, growing from just a few billion in the last few years to $25 billion issued this year alone, and expected to reach $100 billion in 2015. Best of all, they have consistently been oversubscribed.
Read our article, Green Bonds Go Through the Roof!
(Visited 6,317 times, 3 visits today)