Update Oct 1: Surprisingly, Rupert Murdoch's News Corp, International Paper, Overstock.com and one of the biggest oil companies, Occidental Petroleum, have also left ALEC. Social investment firm Walden Asset Management has been pressuring Occidental through shareholder resolutions related to ALEC's stand on renewable energy and climate denial.
by Rona Fried
ALEC has now lost most of big players in the Internet. Since it became clear Google won't renew its membership, Facebook, Yelp and Yahoo immediately followed. Only eBay is left.
Facebook says: "While we have tried to work within ALEC to bring that organization closer to our view on some key issues, it seems unlikely that we will make sufficient progress so we are not likely to renew our membership in 2015."
Yelp says it dropped its membership months ago, and after defending its membership, Yahoo reversed its position and also says it will leave.
"The departure of these firms from ALEC shows that denying the facts on climate change, really doesn't have a place in the modern business world," Brant Olsen of Forecast the Facts told Common Dreams.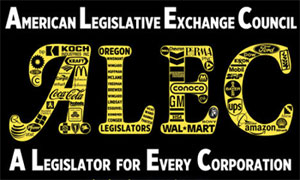 Meanwhile, ALEC has the gall to deny that it promotes skepticism and obstructs any action on climate change. ALEC CEO Lisa Nelson says Google is leaving because of "public pressure from left-leaning individuals and organizations who intentionally confuse free-market policy perspectives for climate-change denial."
"ALEC, a secretive and polluter-funded organization, is
unequivocally a climate denial organization that cloaks its polluter agenda in free-market rhetoric," says Forecast the Facts and Center for Media and Democracy.
Here's their summary of ALEC's role in preventing action on climate change:
ALEC "educates" lawmakers with misinformation about climate change at its annual meetings.
For example, here are some quotes from a Heartland institute workshop at ALEC's recent Dallas meeting:
There is no scientific consensus on the human role in
climate change.
There is no need to reduce carbon emissions and no point in doing so
Carbon dioxide hasn't caused weather to become more
extreme, polar ice and sea ice to melt, or sea level rise to accelerate. These are false alarms.
The International Panel on Climate Change (IPCC) is not a credible source of science or economics.
The likely benefits of man-made global warming exceed
the likely costs.
A "Climate change talking points 2014" workshop during the meeting coached ALEC legislative members on how to talk about the subject:
Carbon dioxide fertilizes algae, trees and crops to provide food for humans and animals.
We inhale oxygen and exhale CO2.
Slightly higher atmospheric CO2 levels cannot possibly
supplant the numerous complex and interconnected forces that have always determined Earth's climate.
ALEC is pushing a model science education bill, "Environmental Literacy Improvement Act" that obscures the reality of climate change in school curriculum.
Tennessee, South Dakota, Louisiana, and Texas have passed this law with nearly identical wording as the model bill. The idea is to present human-caused global warming as just one possible interpretation of the data.
Also at that meeting,
member Peabody Coal called on legislative members to spark a "political
tsunami" in opposition to EPA's power plant emission controls, while a coal industry lawyer called for "guerrilla
warfare."

While ALEC's bill to tax the use of solar energy goes against its purported free-market principles, the group has never applied those principles to eliminating government subsidies for coal, oil or gas.
We've written extensively about ALEC's model bills related to climate and renewable energy, all of which are intended to promote continued use of fossil fuels. If you need a reminder, read our article, ALEC Gears Up For 2014.
(Visited 5,847 times, 1 visits today)