The first emissions program in the US aviation industry is taking off, starting with airports.
At this week's annual conference, Airport Carbon Accreditation in North America launched at a ceremony with over 1600 aviation experts in attendance.
Trade association Airports Council International launched the first such certification in Europe in 2009 and has been since expanded into Asia-Pacific and Africa, in 2011 and 2012, respectively.
Airport efforts to track and cut carbon emissions are independently verified and certified on four levels of accreditation: Mapping, Reduction, Optimization and Neutrality.
As the hub for aircraft, airports can address carbon emissions in a variety of ways:
implement green building practices and renewable energy;
invest in hybrid and electric service vehicles; providing public transport options;
work with airlines & air traffic management to reduce runway taxiing times and implement green landing and takeoff processes.
An electric Taxibot tugs an airplane so it doesn't have to use engines: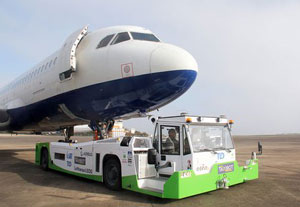 Over the past year, 107 airports in Europe, Asia Pacific and Africa have earned Carbon Accreditation, representing 24.2% of annual global passenger traffic.
"Many industries talk about their commitments. We are getting on with the job and delivering genuine, independently-verified carbon reduction year-on-year," note Olivier Jankovec,
Director General of ACI EUROPE, Patti Chau, Regional Director of ACI Asia-Pacific and Ali Tounsi, Regional Director of ACI Africa.
Sea-Tac Certified in North America
Seattle-Tacoma International Airport (Sea-Tac) is the first to be certified in North America. Other early adopters that plan to get certified include Aéroports de Montreal, Denver International Airport, San Francisco International Airport, and Portland International Airport.
In the past three years, Sea-Tac reduced carbon emissions 8%, with a goal of 25% at the airport and 50% at the Port of Seattle.
They are moving to electric vehicles with substantial investments in charging infrastructure, and have switched to centralized heating and cooling – where air is piped into airplanes parked at the gate, allowing auxiliary engines to be turned off.
These two programs alone will lower carbon emissions by 50,000 tons a year.
Massachusetts' Department of Transportation is developing an-instate "Carbon Neutral Airport Program," starting with Nantucket Airport as a pilot. Based on an energy audit, more than 25 improvements are planned from using solar PV to building retrofits that upgrade the envelope mechanical systems and lighting.
The aviation industry currently accounts for 2-3% of global carbon emissions and air traffic is expected to double by 2020. In 2007, the global airport industry committed to reduce its carbon emissions in a resolution passed at the ACI WORLD Annual Congress & Assembly.
Airlines fought back vociferously when the EU included the industry in its cap-and-trade program a couple years ago. Instead, they voted to have a carbon trading system in effect in 2020 – the first worldwide industry program. But what happens until then and what if the industry doesn't deliver? The EPA may regulate aircraft emissions under the Clean Air Act and has proposed new air pollution standards for large aircraft engines.
Trends are toward all-electric aircraft and those that run on biofuels.
Read our article, How Your Choice Of Airline Affects Emissions.
Learn more about the program:
(Visited 5,047 times, 8 visits today)