Rumors are that Tesla has quietly begun construction of its first Gigafactory in Reno, Nevada, but the company says:
"In June, we broke ground just outside Reno, Nevada on a site that could potentially be the location for the Gigafactory. Consistent with our strategy to identify and break ground on multiple sites, we continue to evaluate other locations in Arizona, California, New Mexico and Texas."
With Panasonic now in hand as partner, CEO Elon Musk told shareholders that it's also planning a dramatic increase in car production. From
35,000 cars
this year, it will ramp to 100,000 in 2015, with a goal of about 300,000 a year when battery production reaches peak levels.
In late July, Panasonic agreed to share the cost of the $5 billion Gigafactory – which will have multiple locations – matched by Tesla's 40% commitment and 20% from other investors and local government incentives where they will be built.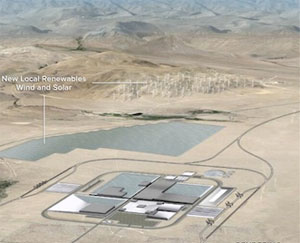 Panasonic will produce lithium batteries for Tesla's cars at the factories, taking up half the space. "Panasonic is hands-down the world's best manufacturer of lithium-ion batteries," Craig Irwin of WedBush Securities told Los Angeles Times. "Tesla is young in its capabilities around these batteries. Having Panasonic in the partnership raises my confidence."
Tesla and Panasonic believe they can cut the cost of batteries 30% in year one through streamlined manufacturing processes driven by economies of scale and by manufacturing battery cells optimized specifically for electric cars. Another important cost-cutter is that suppliers will also be on-site, eliminating packaging, transportation, duty and inventory carrying costs.
Next year, Tesla will begin production of its second car, Model X, an electric SUV. After that, it will focus on Model 3 – its first mass production car, with an estimated retail price of $35,000.
"The Gigafactory represents a fundamental change in the way large scale battery production can be realized. Not only does the Gigafactory enable capacity needed for the Model 3 but it sets the path for a dramatic reduction in the cost of energy storage across a broad range of applications," says JB Straubel, Tesla co-founder and Chief Technical Officer.
"I believe that once we are able to manufacture lithium-ion battery cells at the Gigafactory, we will be able to accelerate expansion of the electric vehicle market," says Yoshihiko Yamada, Executive Vice President of Panasonic.
The world's largest battery factory will produce cells, modules and packs for Tesla's electric vehicles and for the stationary storage market (including storing solar energy at home), with a goal of 35 gigawatt-hours (GWh) of cells and 50 GWh of packs a year by 2020, when it will employ about 6,500 people.
Read our background story, Tesla Gigafactory: Gamechanger for Electric Cars & Energy Storage.
Tesla's stock is now at $251, its highest level yet. Some analysts have set a target price of $320 for this "most important car company in the world."
(Visited 5,711 times, 16 visits today)