A couple of years ago, we wrote about Siemens' idea for an "eHighway," where trucks would drive in a separate lane attached to overhead electric trolley-like wires.
Now, that concept is coming to fruition near the two biggest ports in the US – Los Angeles and Long Beach. The South Coast Air Quality Management District has selected Siemens to electrify a section of highway for electric and hybrid trucks.
The goal is to significantly cut truck emissions to and from the ports, which produce most of the region's air pollution and has the worst air quality in the US.

"The economic logic of the eHighway system is very compelling for cities like LA, where many trucks travel a concentrated and relatively short distance," says Matthias Schlelein, president of Siemens Mobility and Logistics division in the US.
Siemens and Volvo are developing a truck specifically for this purpose. '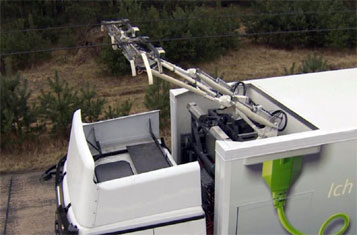 Besides producing zero emissions as they travel back and forth, trucks will be quiet!
"This project will help us evaluate the feasibility of a zero-emission cargo movement system using overhead catenaries. Southern California's air pollution is so severe that it needs, among other strategies, zero- and near-zero emission goods movement technologies to achieve clean air standards," says Barry Wallerstein, executive director of the air quality district.
The one year demo starts July 2015.
Learn more by reading our previous article, Los Angeles Plans Pilot of Siemens eHighway.
(Visited 3,939 times, 5 visits today)