yieldco's are wildly popular investments, raising over $3.8 billion since 2013, according to Bloomberg New Energy Finance.
Here's the latest about Hannon Armstrong (NYSE: HASI), one of the yieldcos we've been writing about. The company provides investors dividends from energy efficiency upgrades on big buildings and from financing renewable energy plants.
Unlike other yieldcos, which offer dividends from the sale of electricity from operating plants, HASI provides debt and equity financing for energy efficiency projects and solar and wind farms.
HASI's portfolio currently holds $169 million in energy efficiency investments, $343 million in wind and solar, and $79 million in other sustainable infrastructure investments – 97% of the portfolio is rated investment grade.
"We define sustainability as positively impacting the environment while being neutral or reducing greenhouse gas (GHG) emissions. As part of our investment evaluation process, projects are screened for GHG reductions and other environmental benefits, such as water use reduction," says HASI.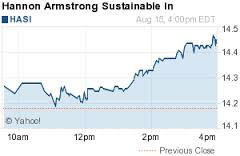 —
by Jeff Siegel
Hannon Armstrong (NYSE:HASI), one of my top picks for
2014, just made me very happy.
Yesterday, the company announced its Q2 Core Earnings of $4.7 million or $0.22 per share. On a GAAP basis, the Company recorded net income of $2.9 million.
Here are some other highlights. . .
Raised approximately $70 million in April 2014 in a follow-on offering.
Increased the flexibility and expanded the capacity of its existing credit facility by $200 million.
Completed more than $200 million worth of transactions, including the acquisition of a $107 million portfolio of land and leases for solar and wind projects.
CEO Jefferey Eckel commented on earnings, saying. . .
April 23, 2014, marked the first anniversary of HASI's initial public offering (IPO) and we are pleased to continue our success with the accomplishments of the second quarter of 2014.
Since the IPO, we have completed nearly $1 billion of transactions. For the quarter, we generated and paid a $0.22 dividend, completed a follow-on equity raise and closed more than $200 million in transactions. This includes acquiring a portfolio of long-duration lease streams for solar and wind projects as well as the rights to finance additional transactions from this new
platform client.
As we have demonstrated over the past few quarters, we continue to execute on high credit quality yransactions that should translate well into dividend growth for our shareholders.
Opportunities for HASI continue to be robust. The recently announced Presidential initiative calling for an additional $2 billion of federal energy efficiency projects and EPA's
proposed regulations to cut carbon emissions from existing power plants will encourage more investments in energy efficiency and clean energy throughout the country. HASI is well positioned to capitalize on these opportunities and will continue to seek projects generating attractive risk-adjusted yields."
Hannon Armstrong remains one of my top long-term picks in the renewable energy space. With top-notch management in place, continued demand for alternative energy financing, and a solid 6%
dividend, this is a must-own stock for any savvy energy investor.
++++
Jeff Siegel is Editor of Energy and Capital, where this article
was first published.
(Visited 4,109 times, 138 visits today)