Scotland is home to the world's first community-owned tidal power plant, now powering about 30 homes, a locally-owned ice plant and industrial area.
Installed early this year, the tide flows past a rotating turbine propeller that sits 100-feet deep on the sea floor. The nacelle turns as the tide changes so that it always points downstream and is secured to the seabed by a 30-ton tripod base. The generator it powers sends electricity to the grid via a one kilometer undersea cable.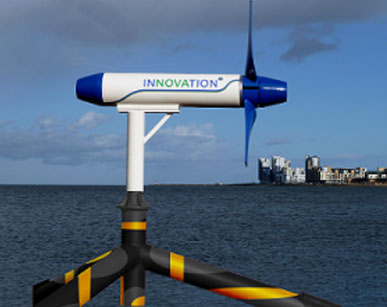 North Yell's Development Council commissioned Nova Innovation to design, build and install the 30 kW tidal turbine, which is
positioned between Yell and Unst – two islands in the northern United Kingdom. The project is funded by Scotland's Community and Renewable Energy Scheme (CARES), Shetland Islands
Council, and North Yell Development Council, and is now 100% owned by the local community.
The company will also build five, 100 kW projects to expand the system, creating the Shetland Tidal
Array – the world's first in-sea tidal installation. The first three devices should be online by
the end of 2015.
Both Nova and 80% of its supply chain are located in Scotland because of its leadership on marine energy development.
Last year, the government approved the world's first tidal and wave energy projects of significant size at 86 MW and 40 MW, respectively.
Scotland's goal is to get 100% of electricity from renewable energy by 2020 – that's just 6 years away!
The US is moving much more slowly on marine energy. To encourage development, the Department of Energy recently launched
a competition that challenges computer programmers to create software that facilitates wave energy.
(Visited 4,743 times, 8 visits today)