A couple of years ago, Southwest Airlines announced they were redesigning their airplane interiors with green materials. What to do with all the old stuff?
It's not going into landfills or incinerators – 43 acres worth of used leather seat coverings are being upcycled into all sorts of new products, such as shoes, soccer balls and backpacks.
No, Southwest isn't getting into the textile business, they are partnering with groups around the world that use the donated materials to provide employment and skills training.
In Nairobi, Kenya, for example, SOS Children's Villages Kenya – which serves orphaned children and families in need – Alive & Kicking, Masaai Treads, and Life Beads Kenya, will
produce goods from the leather and distribute them to local community groups.
SOS youth will receive paid apprenticeships and training to make
shoes and soccer balls from the leather. The soccer balls
will be donated to support education programs that use sports to raise awareness about HIV/AIDS and Malaria prevention.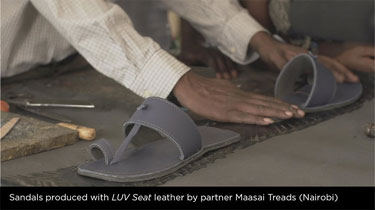 US-based TeamLift will develop a leather works training program that teaches entrepreneurial skills while generating money for their boarding school in Malawi. The non-profit's mission is to
transform the lives of women and children in Sub-Saharan Africa.
Southwest has been testing its Green Plane since 2009 and is finishing an extensive interior redesign that cuts the weight of its airplanes by 635 pounds. The cabin's carpet is made in a closed loop process by sustainability leader Interface; seats are made from aluminum and seat coverings are recycled, light-weight leather.
(Visited 3,938 times, 4 visits today)