Can a "climate ribbon" replace air conditioning? People visiting an open air shopping center in Miami will soon find out.
Topping the $1 billion mixed use Brickell City Centre which spans four blocks of waterfront will be a 150,000 square foot climate ribbon – an enormous overhead trellis made of steel, glass and fabric. It covers the walkway of the shopping center, where there are open-air shops, escalators, restaurants, and terraces.
It will protect visitors from oppressive heat and the odd rain shower by creating a micro-climate that stabilizes the temperature.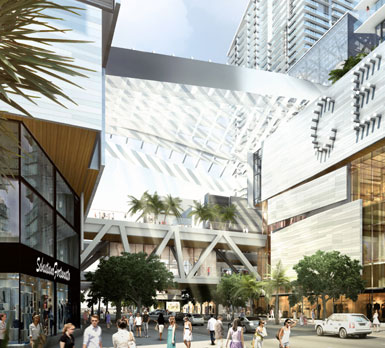 How does it work? Under the glass is an undulating design that captures cooling ocean trade winds, encouraging air flow, while hanging fabric panels act like huge Venetian blinds – arranged to block the harshest of the sun's rays. "The orientation of a series of louvers is very specifically designed to protect the shop fronts from direct sun," says Hugh Dutton of Paris-based Hugh Dutton Associés, which participated in developing the design.
The sophisticated environmental management system allows daylight to penetrate – giving visitors the feeling that they are outdoors – and also captures rainwater for reuse at the rate of 5 million gallons a year. In the future, it may also produce solar energy.
It's designed to achieve three benefits: ventilation so that air conditioning isn't needed in the shopping center's public places; shelter from inclement weather; and solar shading for the hottest times of the day.
More details:
The surface is a dynamic series of flat, inclined planes positioned at variable angles and supported by a steel frame. Positioning is the result of careful analysis of sun paths, wind patterns and the need for a flexible structure.
The slope of each plane allows rainwater to drain easily into multiple storage cisterns for reuse. Water is stored above ground, eliminating the need for electrical pumping when it's distributed.
An upper glazed 'skin' provides rain protection and acts as a partial filter for solar radiation.
Inside the retail center, a continuous series of dramatic fabric 'blades' provides shade. Blades vary in height and angle based on the direction of the sun's rays, while maximizing views of the sky.

This provides a sheltered, but still open air environment, and the design floods the interior with patterns of light throughout the day.
Toward the eastern end it gently lifts up to create a 'scoop' that captures trade winds in the summer. Other parts of the structure act as deflectors or additional 'scoops', ensuring that a flow of air, between 6-9 knots in speed, keep the temperature comfortable throughout the public spaces.
At a cost of $20 million, it's a collaborative effort between the developer, Swire Properties, the group that's building the structure – German design firm Gartner – project architect, Arquitectonica, Cardiff University of Wales and Carnegie Mellon.
"From its initial conception, the CLIMATE RIBBONTM has provided an architectural shade system to protect visitors, so it's gratifying
now to see the dynamic evolution of the structure to include so many climate management features," says Stephen Owens, president of Swire Properties, Inc. "We feel this element will become a distinctive design emblem of Miami and will be reason alone for people to visit and experience Brickell City Centre."
Swire has registered it as a LEED for Neighborhood Development – because it's part of a larger project that has residential and commercial elements. The project is an expansion of Brickell, a shorefront development constructed in the 1980s.
For more inspiration, Check Out the World's Largest Living Wall and two buildings that purify the surrounding air.
Read our article, By 2050, Urban Buildings That Breathe And Adapt.
Read more here:
(Visited 9,784 times, 7 visits today)